RIM is putting a clever new spin to the old "share what song you're listening to" trick by letting you share the actual tracks, not just the mere artist/track name info. Enter BBM Music – it's an add-on for BlackBerry Messenger 6, that lets people create a 50 song collection and share it with their friends.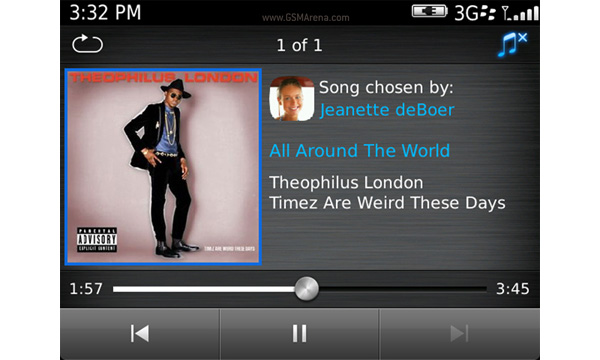 You can listen to your 50 tracks and to the 50 tracks of each of your friends, or as RIM puts it "More friends = More music".
BBM Music itself is free, but you'll have to pay a $4.99 subscription a month (after a free trial month). But the thing is, the subscription is always the same, no matter how many friends you add (and consequently, how much music you have access to).
It sounds a bit limiting, but chances are you're listening to much of the same music that your friends are, so there will be no shortage of good music. BBM Music is also a good way for find new artists and tracks – you can follow your friends' listening tastes through a timeline and their comments.
Songs in the playlists you've created (consisting of "your" tracks and your friends' tracks) are cached on the memory card, so you don't have to worry about exhausting your data allowance or spotty reception.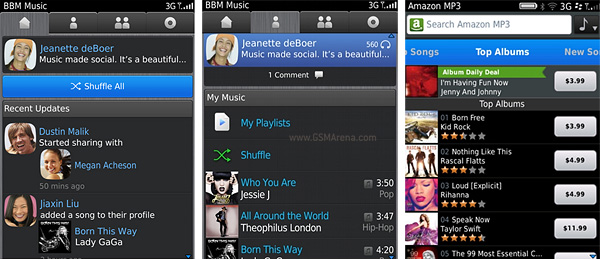 You get to listen to all songs you have access to at no extra charge and you can swap out 25 of the 50 songs in your profile each month. If you really like a track, you can also hit the "buy" option, which purchases the song from the Amazon MP3 music store. This will free up room in your 50 songs profile to try out new tracks.
BBM Music will be available later this year. You can have a look at the post over at the BlackBerry Blog for more details on BBM Music.