Google announced a second-generation Nexus 7, which retains the screen size, but increases the resolution tremendously to 1920 x 1200 pixels. This continues the affordable slate's role as yardstick for other portable Android tablets to be measured against. But how does it stack up against Apple's portable tablet warrior – the iPad mini? Should you rush to the Google Play Store to get one to replace your first-gen Nexus 7?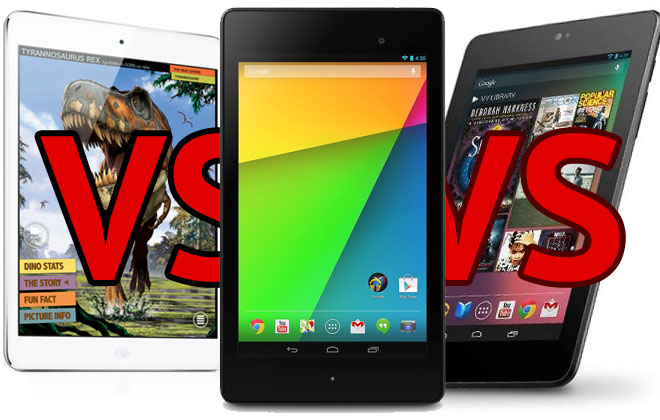 We've prepared a quick comparison table that'll bring you another step closer to making the decision.
For starters, the new Nexus 7 is thinner and a tad lighter than its predecessor. As a result it's more comfortable to operate with one hand. It's still 10 grams heavier than the iPad mini, but Apple's portable tablet is 2cm wider, so things balance out in terms of handling there.
We mentioned the screen resolution, and here neither the iPad mini, nor the first-gen Nexus 7 can hold a candle to Nexus 7 2′s WUXGA display. Its pixel density is almost double that of the iPad mini's. Portable tablets not only need to be easy to handle, but also cheap to buy. Google asks $30 more for the Nexus 7 2 than it did with the original, but it's still not even close to the premium charged by the Apple offering.
Check out the table below to see how the Nexus 7 2 stacks up against the iPad mini and the first-gen Nexus 7.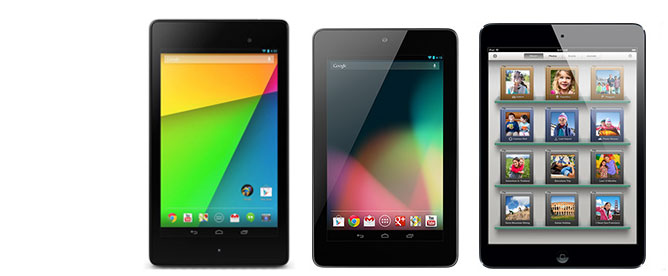 Nexus 7 2

Nexus 7

Apple iPad Mini

OS

Android 4.3 Jelly Bean

Android 4.2.2 Jelly Bean

Apple iOS 7

Display

7.0-inch
IPS LCD

7.0-inch
IPS LCD

7.85-inch
IPS LCD

Resolution

1920 x 1200
(323 ppi)

1280 x 800
(216 ppi)

1024 x 768
(163 ppi)

Height
Width
Thickness

201 mm
114 mm
8 mm

198.5 mm
120 mm
10.45 mm

200 mm
134.7 mm
7.2 mm

Weight

318 grams

340 grams

308 grams

Processor

1.5GHz quad-core
Krait processor
Snapdragon S4 Pro


1.3GHz quad-core
processor
NVIDIA Tegra 3

1GHz dual-core
processor

A5

GPU

Adreno 320

GeForce ULP

PowerVR SGX543MP2

RAM

2GB

1GB

512 MB

Storage

16GB / 32GB

8GB / 16GB

16GB / 32GB / 64GB

microSD card slot

No

No

No

Primary camera

5 MP, 2592×1944 pixels,
autofocus, 1080p video recording

No

5 MP, 2592×1944 pixels,
autofocus, 1080p video recording

Front camera

1.2MP

1.2MP

1.2MP

Battery Life

N/A

10 Hours

10 Hours

Wi-Fi

Wi-Fi 802.11 b/g/n

Wi-Fi 802.11 b/g/n

Wi-Fi 802.11 a/b/g/n, dual-band, dual-antenna

Bluetooth

Yes

Yes

Yes

Network

No

No

GPRS / EDGE / UMTS / LTE

NFC

Yes

Yes

No

Speakers

Stereo

Mono

Stereo

Availability

July 30

Currently available

Currently available

Price

$229 / $269 (Wi-Fi)
$349 (32GB Cellular)

$199 / $249

$329 / $429 / $529

$459 / $559 / $659 (Cellular)
That's Google's latest Nexus 7 slate in a nutshell and just like the original, it sets the bar pretty high for other portable Android tablets and gives the competition a tough time. Feel free to share your opinion on the Google Nexus 7 2 in the comments section below.