Not inclined to stay indifferent to the current fast growing market for affordable tablets, Barnes & Noble has announced its latest soldiers to join the fight – the 7-inch Nook HD and the 9-inch Nook HD+.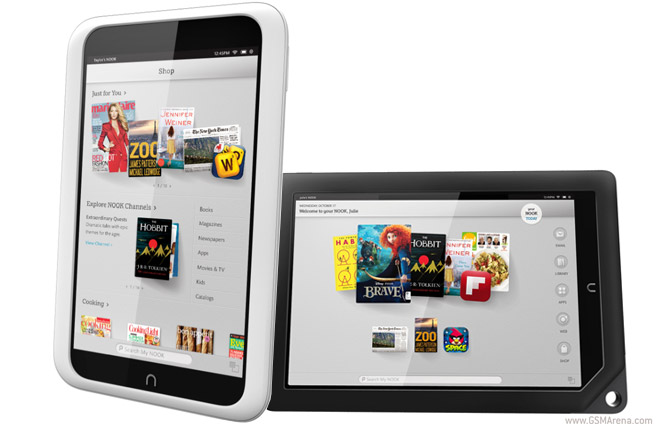 The 7-inch Nook HD is a direct answer to Google's Nexus 7 and Amazon's recently unveiled Fire HD and offers a lot of bang for the buck.
7-inch Nook HD
The best feature hands down, is the tablet's display. With a resolution of 1440 x 900 (243 ppi), the Nook HD gets the award for the highest resolution 7-inch display out there, smashing the Nexus 7′s and Amazon Kindle HD's 216ppi screens. The Nook HD is powered by a 1.3GHz Texas Instruments OMAP 4470 chip and 1GB of RAM, which should provide enough oomph for most tasks.
Internal memory is either 8GB or 16GB and could be further expanded thanks to the microSD card slot on board. Barnes & Noble says the battery will be good for 9 hours of video watching or 10.5 hours of reading, but the capacity of the battery isn't known yet.
B&N hasn't put any cameras on either the Nook HD or the Nook HD+, and while that means to video chatting, it helps keeping the price down. Measuring 127 x 194 x 11mm, the Nook HD weighs just 315 grams.
9-inch Nook HD+
Next up, is the 9-inch Nook HD+, which features a full HD IPS display and is powered by the same Ti OMAP 4470 processor as its little brother, but clocked at 1.5GHz. Internal memory can be either 16GB or 32GB and is also expandable via the microSD card slot.
The NookHD+ weighs 515 grams and measures 163 x 240 x 11.5mm with a battery rating of 9 hours of video playback and 10 hours reading.
As you'd imagine, both tablets run a heavily modified version of Android 4.0 Ice Cream Sandwich, with Barnes & Noble integrating their Nook Store deeply into the OS. Still, I imagine it won't be long until the XDA community chimes in, and throws in some custom ROMs into the play.
B&N has also unveiled its new Nook Video service. It's basically an online store where you can purchase movies and TV shows. It'll launch in the US by the end of the Fall with UK following by Christmas. Nook Video will work on Nook devices as well as on smart TVs, tablets and smartphones. Naturally, you'll be able to stream your content as well as downloading it when you please.
Anyway, let's talk pricing. The 7-inch Nook HD will retail for $200 for the 8GB model and $30 more for the 16GB one, while the 9-inch Nook HD+ will cost $270 or $300 for either the 16GB or 32GB model. You can expect the tablets to become available for purchase in late October with pre-orders starting today.