Remember when AT&T banned installation of apps from third-party markets on their phones and users were effectively left without access to the Amazon store, not to mention custom installs off a memory card? No? Well it happened and all of AT&T's Android smartphone were declined access to the new app store. Now it seems that AT&T is "rethinking" and will allow installation of third-party apps on its future Android phones, starting with the Samsung Infuse 4G.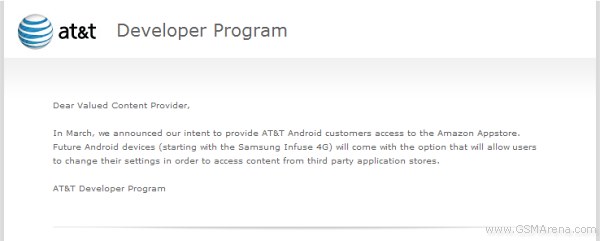 The things is here, AT&T doesn't address whether older droids will get the same treatment via a software update or will be left in the dark. It would be unfair if they don't. We can only assume only new phones will be able to install third-party apps, judging by this memo AT&T sent to developers.
It took AT&T two months to act on the promise to allow downloading from the Amazon store, hope it doesn't take two more for the company to finish the job and add all its droids to the list.
Comments are closed.