Asus unveiled a large number of devices at the start of Computex, including four laptops – the Asus Transformer Book V, Transformer Book T300 Chi, Transformer Book Flip and Zenbook NX500. To call the Transformer Book V a "laptop" would be like calling a centaur a horse, however. Asus calls it "the world's first five-mode, three-in-one converged laptop".

It's the device Asus was teasing with the blender video.
Transformer Book V
The Asus Transformer Book V similar to Padfones in that it's a 5″ Android smartphone that goes into a 12.5″ tablet dock. The tablet "dock" is a proper tablet in its own right with an Intel Core processor and runs Windows 8.1.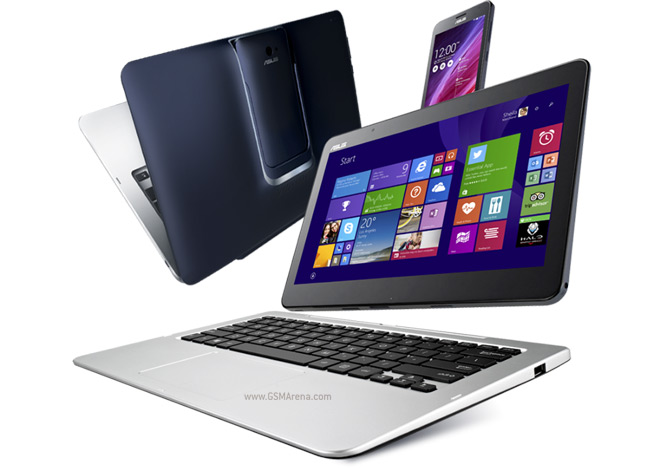 The tablet packs 128GB of storage, but if you attach it to the keyboard dock you get an additional 1TB HDD. So why do you need to put the smartphone into the tablet when it has a separate chipset running a separate OS? Well, the phone part runs Android 4.4 KitKat on a quad-core Intel Atom chipset and brings LTE connectivity to the mix. You can switch between Android and Windows seamlessly.
Transformer Book T300 Chi
Next up is the Asus Transformer Book T300 Chi, another detachable 12.5″ notebook. This one is pure Windows and is powered by an Intel Core processor. It has a much better screen too, with QHD resolution instead of just HD like on the Book V (both are IPS).
Anyway, the Transformer Book T300 Chi packs LTE connectivity and is impressively thin at just 7.3mm for the tablet part.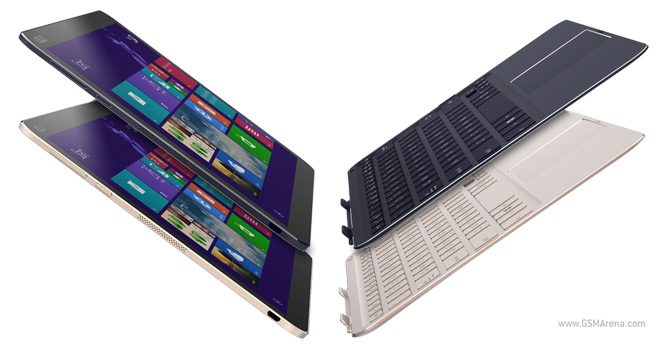 Asus Transformer Book Flip
The Asus Transformer Book Flip is bigger – available in 13.3″, 14.0″ and 15.6″ models – it has a 1080p screen, which flips 360° to turn the device into a tablet. It runs Windows 8.1 on an Intel Core i7 processor and NVIDIA GeForce GT840M graphics card.
The Transformer Book Flip will be available worldwide in June.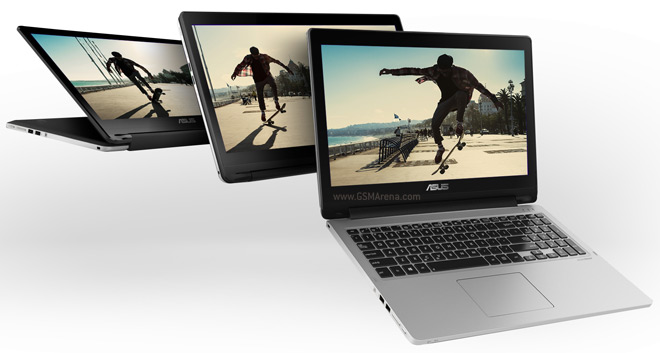 Asus Zenbook NX500
Finally, the Asus Zenbook NX500 is the cream of the 15.6″ crop. It has an IPS screen with UHD resolution (3,840 x 2,160 pixels) and great color rendering (100% NTSC/108% Adobe RGB). It's powered by a powerful quad-core Intel Core i7 and NVIDIA GeForce 850M. Storage comes in two flavors – RAID0 SATA3 or PCIe x4, both SSD based.
Both the Book Flip and Zenbook NX500 have aluminum bodies and SonicMaster speakers. One the NX500 they are titanium-film speakers with ICEpower from Bang & Olufsen.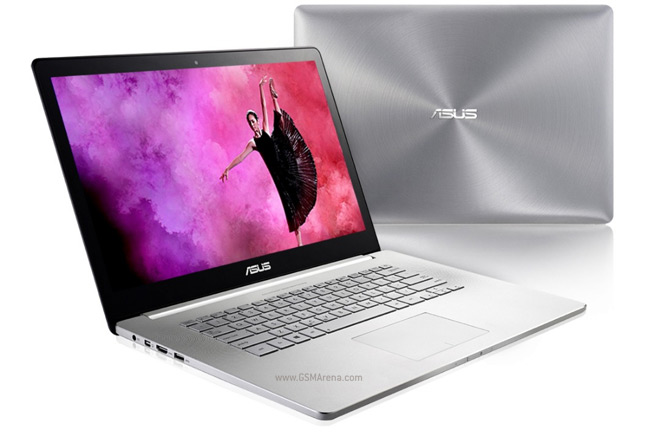 Unfortunately, there is no pricing and launch date for these devices aside from the Transformer Book Flip.