Asus is readying a whole lot of tablets for launch at the end of this year and the beginning of the next. They'll cover anything from 8 to 12 inches and run Windows 7, Windows Embedded Compact 7, Android and Linux…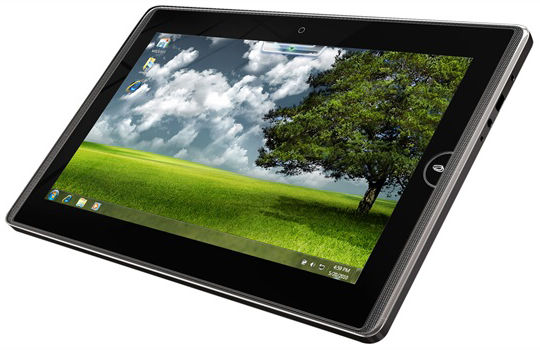 The biggest of the new names is the Asus EEE Pad EP121. It will have a 12" screen and run Windows 7 Home Premium on an Intel Core 2 Duo processor (probably some ULV model). The EEE Pad EP121 will come with a docking station that apparently turns it into a laptop. The projected price is 1000 USD (778 euro) and it will arrive either in December or January. Originally it was set to cost bellow $500 but obviously plans changed significantly.
Also in January, but without a docking station is coming another EEE Pad. It will be powered by an ARM processor and run Windows Embedded Compact 7. This EEE Pad will have a smaller screen – 10 inches – and will run you between 399 and 499 US dollars (310 – 390 euro).
Later on, in March 2011, Asus will be releasing yet another EEE Pad that runs yet another OS – Android in this case. It will have a 10" screen too and cost around 399 USD, but that's all the details on this particular tablet for now.
The most detail available is for an 8" Asus EEE Tablet that might change its name to EEE Note. It has an LCD screen with 1024×768 pixels resolution and can display 64 shades of grey. It is meant as a tool for school – it combines an e-reader, it can be used to take notes and also browse the web through a Wi-Fi connection. It runs a custom Linux distro and has 2GB internal memory expandable by microSD.
The battery should have enough juice to keep the EEE Tablet/Note going for 10 hours (seems rather low for such a display and limited functionality). It should be the first of the bunch to appear – October, though it will be available for reviewers in September. It will be priced around 300 US dollars (235 euro). Running Linux it will also be the most hackable of the bunch but I'm still not sold on the whole LCD for e-reader thing.
Source: PC World – EEE Pads, PC World – EEE Tablet