Google has announced that ASUS and Toshiba have jumped on the Chrome OS bandwagon. The two companies join Samsung, Acer, HP and Lenovo to make a total of six manufacturers who have turned their attention to Google's infant computer OS.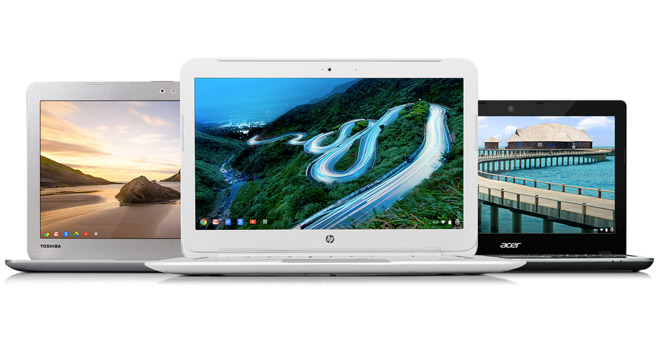 Additionally, new laptops boasting Haswell CPUs are out as well. ASUS has debuted on the Chrome OS scene with its own Chromebox, while Toshiba has a Chromebook. Acer and HP have updated their Chromebook and Chromebook14 laptops with Haswell chips as well.
Sadly, any further specifications on all devices aren't available at the moment. On the upshot, Google has hinted what each of the products will feature. Acer's latest generation Chromebook will be all about lightness and mobility, while Toshiba's Chromebook will bring "versatility and portability". The ASUS Chromebox shapes up to pack the hardware of the third-generation Samsung Chromebox, but in a much smaller form factor.
You can check it out below compared to the Acer Chromebook and HP Chromebook14.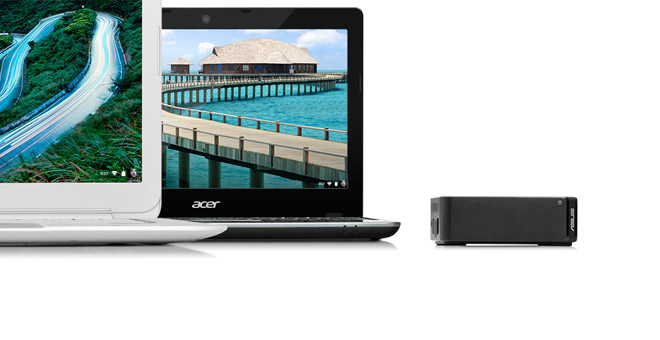 You can see that HP's Chromebook14 is in white, but the company says the notebook will flaunt a number of color options when it becomes available. It's going to cost $299.99 and pack a 16GB solid-state hard drive for local storage and 100GB of free Google Drive cloud storage for two years. There's also an HDMI port, one USB 2.0 as well as one USB 3.0 port.
We suspect Google will release more information regarding pricing, availability and specifications of all those products once they're ready for prime time.