ARCHOS has just expanded its Android-powered tablets introducing five more devices – ARCHOS 28, 32, 43, 70 and 101. They are about to hit the stores over the next few weeks and the most affordable of them is said to cost less than a hundred euros.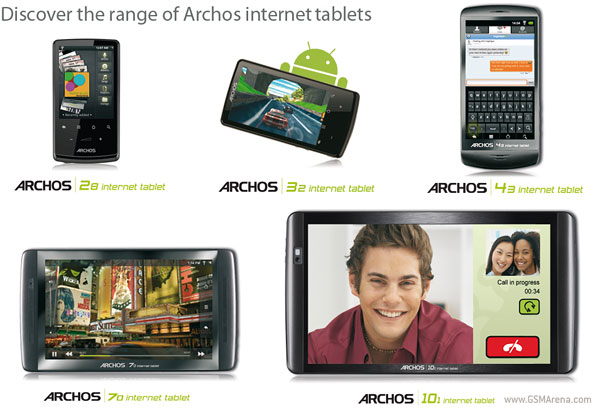 If you're looking for a multimedia player/internet tablet, you might be staring at it right now. ARCHOS has just announced five new devices and along with the many differences among them, there is one thing they all have in common – all five of them have the Android 2.2 (a.k.a. Froyo) on board and feature touch sensitive displays (varying from 2.8 to 10.1 inches in size, the device names indicate the screen size).
As for the display resolution, it starts at QVGA (ARCHOS 28, pictured above) and reaches WXVGA (ARCHOS 101). The new tablets are capable of playing diverse type of audio, image and video files (subtitles are also welcome) and give you access to the Internet as well as to numerous apps found over at the AppsLib store.
The Android tablets also pack support for 802.11n Wi-Fi and, except for the tiny ARCHOS 28, they also offer Bluetooth connectivity. The new ARCHOS devices are powered by fast 800MHz (the ARCHOS 28 and 32) or 1GHz (the ARCHOS 43, 70 and 101) processors and have spacious built-in storages (some pack microSDHC slots too).
The ARCHOS 28, 32 and 43 should start selling this September while the more powerful ARCHOS 70 and 101 should show up a month later, in October 2010. The ARCHOS 28 is the first Android tablet priced at less than 100 euro. It will cost only 99 euro. For more information on the upcoming ARCHOS tablets, follow the source link below or visit the ARCHOS website.