Archos made its new line up of Platinum tablets official. And yes, the name does sound familiar as one of them was even showcased at CES last month, but obviously the French manufacturer consider that unofficial. Anyway, all the latest tablets in the Platinum range have high-end hardware and mid-range pricing so they might turn out to be quite interesting offerings.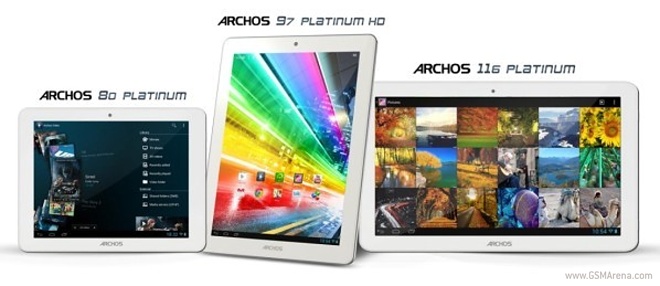 As expected, all the tablets will be powered by a 1.2 GHz quad-core processor with 8-core GPU along with 2GB of RAM. They will all offer rear and front cameras, HDMI and microSD support. The slates will run on Android 4.1 Jelly Bean at launch.
Archos Platinum range of tablets consists of an 8″ Archos 80 Platinum, which has a screen of 1024×768 pixel resolution. Archos 80 Platinum will be priced at $199 in the US, £179 in the UK, €199 in Europe and the tablet will be available by the end of the month.
The Archos 97 Platinum sports a 9.7″ display with 2048×1536 pixel density – the exact same specs as the iPad Retina screen. The Archos 97 Platinum will go on sale along with the Archos 80 and the tablet will carry a price tag of $299 in US, £249 in UK and €269 in Europe.
The last tablet in the Platinum range is the 11.6″ Archos 116 Platinum, which boosts a 1920×1080 IPS display. Archos 116 will be available from April and will cost you $349 in US, £299 in UK and €349 in Europe.