There are quite a lot of tablets here at CES 2013, but probably very few of them will catch the consumer's attention as much as the Archos 97 Platinum.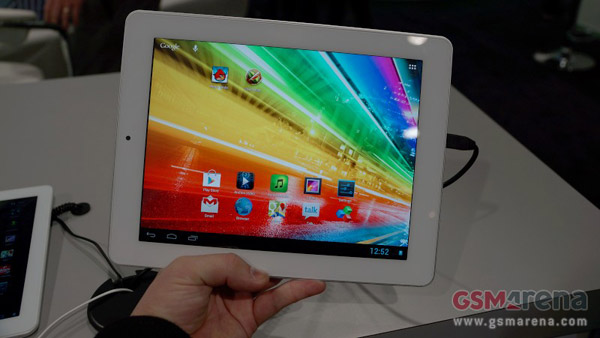 Built around a 9.7″ IPS display pushing an iPadeqsue resolution of 2048 x 1536 pixels (264 PPI), the Archos 97 Platinum packs a 1.2GHz quad-core processor and 2GB of RAM that help the slate run Android 4.1 Jelly Bean very decently.
And if the quad-core processor and Retina-like display didn't sound great already, the Archos 97 Platinum is going to retail for the very un-Apple-like $329. Sounds like a great deal indeed.
With such price, however, you have to sacrifice something and in the 97 Platinum's case that's the build quality. The slate doesn't feel too bad in your hands, but the lock/power and volume rocker buttons feel really cheap.
There are two 2MP camera at the front and back of the slate. We think Archos could have saved the trouble of placing a main camera at the back and slash the price even further. Built-in storage is quite limited at 8GB, but luckily it's expandable via the microSD slot.
The Archos 97 Platinum is expected to hit US and Europe shores in March.