In spite of the never-ending rumors that flooded us like torrential rain in the past weeks, Apple didn't announce the highly anticipated iPhone 5 with its rumored 4-inch screen and new slimmer body. Unfortunately for Apple, this is having a negative effect on many of their shareholders.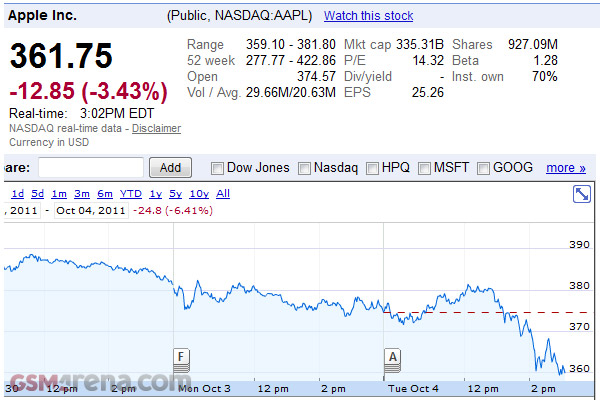 It appears that the newly introduced Apple iPhone 4S isn't what shareholders were hoping to see at this evening's Apple event. The shares of the company took quite a plunge after the announcement, currently selling at 5% lower than their opening rate today.
We are used to seeing Apple shares fall during their keynote speeches only for them to start climbing back shortly after, but a drop of such proportions hasn't been seen for quite a while.
To give an idea of what kind of money we are talking about – the drop has cost Apple just over $18 billion in marketing capitalization (so far). It has also made Exxon Mobil Corporation the most expensive corporation in the world, despite the fact that the petrol giant's share are down by 1.5% today.
We'll continue to follow the company's stock prices and see whether their price will stabilize in the coming days.