Apple has changed the nomenclature for the new iPad in select markets from the iPad Wi-Fi + 4G to a more vague iPad W-Fi + Cellular. This is due to customer complaints regarding the use of the term "4G" after the launch of the new iPad a couple of months ago.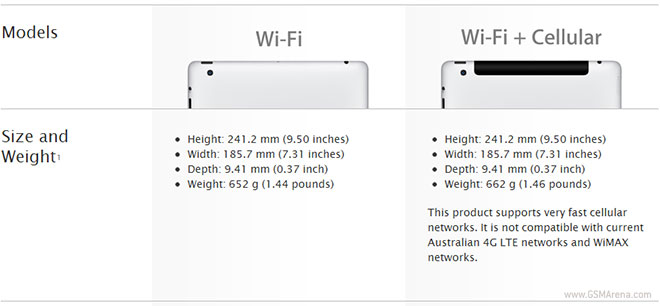 Recently, Apple was sued in Australia because they referred to it as iPad Wi-Fi + 4G, even though the 4G LTE functionality does not work on Australia's LTE network. In fact, the LTE on the iPad only works in the US and Canada on select networks.
So to prevent further lawsuits, from now on the Wi-Fi + 4G model of the new iPad will be referred to as Wi-Fi + Cellular. This change can be seen on Apple's website in UK, Australia, the U.S., Canada, UAE, Vietnam, Thailand, Singapore, New Zealand, Malaysia, Ireland, and Hong Kong. The 3G model of the iPad 2, which is still on sale in certain regions, will continue to be referred to as iPad 2 Wi-Fi + 3G.