For the first time since 2003 Apple might report negative income growth, according to an analyst survey conducted by CNN Fortune.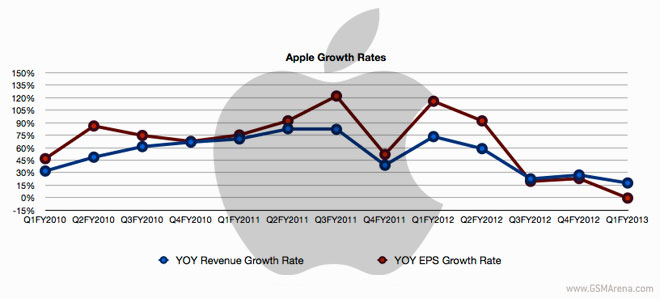 Every single analyst that took part in the survey believes Apple will report a lower income for Q2, 2013 (ending in March – the company has a shifted fiscal year) compared to the same period last year. Analyst company Thomson Financial estimates Apple's earnings per share (EPS) for the fiscal second quarter will stand at $10.18, compared to $12.30 in Q2 2012.
However, investors needn't worry as Apple is hardly going down. The company has said in its quarterly guidance it expects its quarter revenue to be between $41 and $43 billion. What analysts are on about is something called "gross margins" or how efficiently a company transforms revenue into profits.
Apple's gross margin for last year was at its highest ever at 47.37%, while this year the company is projecting it to be down nearly 10 percent points to 37.5%. It's this indicator that has affected the net income projections.
The charts below, made by Apple analyst Robert Paul Leitao of Braeburn Group, give us a glimpse of how Apple's finances have been developing.