The dust from Apple's iPhone and Watch launch event from yesterday is starting to settle down. With the excitement surrounding the new trio of Apple products now settling down to more reasonable levels, we'd like to reach out to you and ask – did they live up to your expectations or not?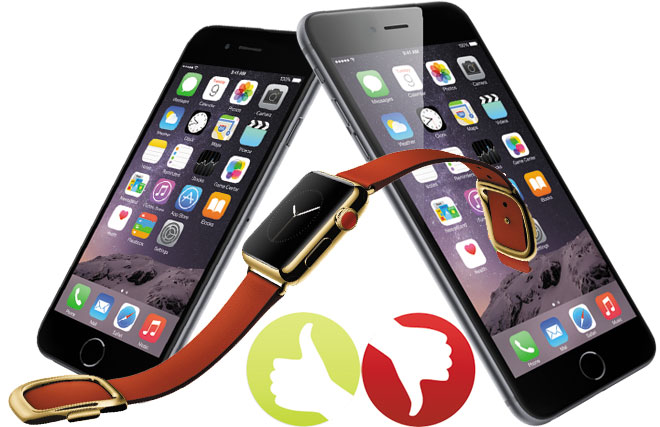 A simple question at first sight, but there's a lot of thought that goes into it before an answer is given. We covered everything there is to know about the Apple iPhone 6, iPhone 6 Plus and the Apple Watch and with that in mind, let's get cracking.
The iPhone 6 packs a 4.7″ display and the latest Apple A8 chip with a 1.4GHz dual-core CPU running iOS 8. It's the thinnest smartphone the company has outed at 6.9mm, but the display's resolution isn't anything to lose your breath over.
We made a neat comparison of the phone's specs against the competition – Samsung Galaxy Alpha and Sony Xperia Z3 Compact – but more often than not, it's not about the specs. It's about the image and how a mobile phone makes you feel.
So, considering all of this – is the new iPhone 6 hot enough for you or not?
Next up is the bigger brother, the iPhone 6 Plus and its 5.5″ 1080p display, which comes to compete directly with the likes of the LG G3 and Samsung Galaxy Note 4.
Samsung already expressed its snarky opinion regarding the larger size of the new iPhone 6 models, and there's a lot the Note 4 can feel proud about. Apple hasn't stayed inactive and took advantage of the larger size of the iPhone 6 Plus.
iOS 8 adjusts to utilize two pane design configuration of select applications when in landscape mode. The camera, while using the same 8MP sensor, now features optical image stabilization.
So, what do you make of it? Hot or not?
Finally, there's the Apple Watch, the company's smartwatch that was three years in the making and is the "most personal device" the company has made.
There are still many unknowns surrounding the watch such as connectivity and battery life. But it looks cool and comes in 38mm and 42mm sizes with various straps and watchfaces. For everything cool about it, there's also something uncool. For example, its pricing at $349 is a bit high and the "early 2015″ launch is disappointing, frankly.
In any case, it's up to you to decide whether the Apple Watch is hot or not.