Today's Apple event is not all about the new iPhone 5, as the company also announced the new, fifth-generation iPod Touch and the new iPod Nano.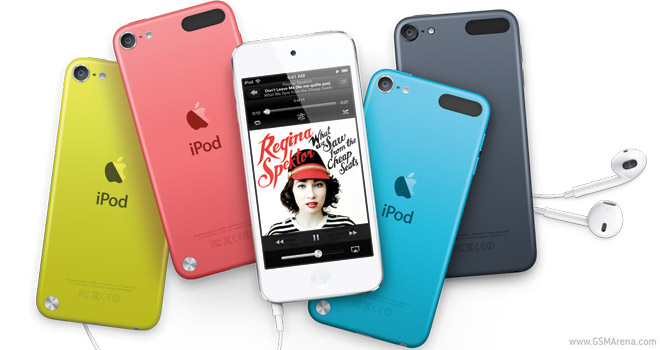 The new iPod Touch now sports the same display used in the new iPhone 5 – a 4-inch Retina display with a 16:9 aspect ratio. Under the hood, it's got the iPhone 4S' A5 chip inside, which Apple says provides up to seven times faster graphics than previous gen iPod Touch.
Weighing 88 grams, the new iPod Touch is just 6.1mm thick and features an improved battery rated for 40 hours of music playback or 8 hours of video. In addition, the main camera has been updated as well and is now a 5MP with a backside-illuminated sensor and a bright f/2.4 lens. It can shoot 1080p videos and has cool features like image stabilization and panorama shooting.
Connectivity is updated as on the fifth-gen iPod Touch, which features Bluetooth 4.0, 802.11 a/b/g/n and support for AirPlay mirroring. Additionally, Siri is now also present on the iPod Touch.
Inside the iPod Touch's box, you'll also find Apple's new EarPods. While the previous generation was available in only black or white, now Apple are launching the iPod Touch in pink, yellow, blue, white, silver, black, and slate.
Available in October, the new iPod Touch will come in 32GB and 64GB varieties retailing for $299 and $399, respectively. Pre-orders start on September 14.
iPod Nano
The iPod Nano is updated as well. The latest seven-generation Nano is now 5.4mm thick, which is 38-percent thinner than the previous generation.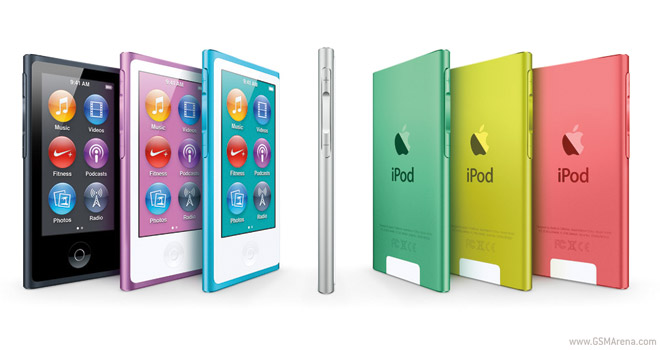 There's now a physical button below the 2.5-inch, 240 x 432 pixels multitouch screen. Also added is a pedometer, an FM tuner with enhanced playback control functionality and Bluetooth radio. The new Lightning dock connector has also found its place on the new Nano as well.
Apple says the battery will be good for up to 30 hours of media playback. Available in a single 16GB variation only, the latest iPod Nano will set you back $149 and is available in a total of 7 colors.