Amazon may be working on a revamped flagship tablet, the Kindle Fire HDX 8.9. The original one launched with the then-current Snapdragon 800, while this new version spotted by the AnTuTu team uses the latest Snapdragon 805.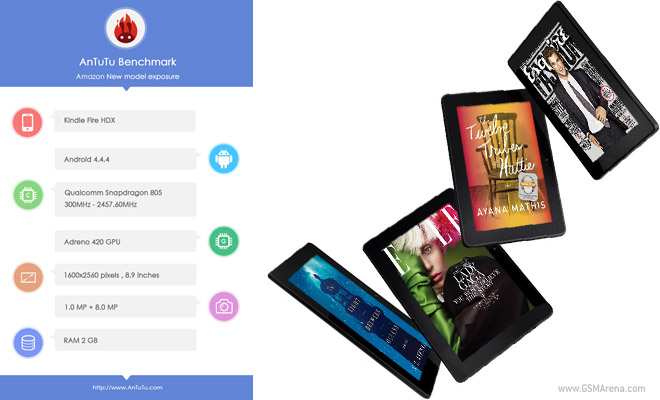 Other key specs seem unchanged – like the 8.9″ 2,560 x 1,600 screen, 2GB of RAM or 8MP / 1MP camera setup.
It's important to note that the software has been updated and the heavily-customized Amazon Fire OS that powered the Kindle Fire HDX 8.9 was based on Android 4.4.4 KitKat. The previous generation Kindle Fires and even the new Amazon Fire Phone (with Fire OS 3.5) ran software based on 4.2 Jelly Bean.
The new Snapdragon 805 chipset is pretty sweet all by itself – it includes a brand new CPU core design (Krait 450) and a new generation GPU (Adreno 420). It also supports blazing fast LTE (Cat. 6, up to 225Mbps), not that the US, Amazon's prime market, has any networks to support it.
The benchmark may have missed other interesting things like the unique camera setup on the Fire Phone. It's not a wild guess that this tech may be coming to the Amazon tablets as well.
Thanks to everyone who sent this in!