Rovio Mobile, the creators of everybody's favorite Angry Birds smartphone game announced in a tweet that they have joined forces with Twentieth Century Fox to release a new flock of angry birds that is going to hit your smartphone or tablet some time in March.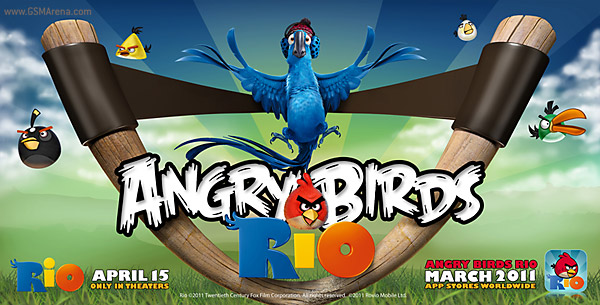 As a result of this unique team-up, the new Angry Birds Rio will feature characters from the 3D CG movie Rio, which is going to hit the movie theaters on 15 April. Here's the official tweet from Rovio.
http://twitter.com/RovioMobile/status/31116865367441408
Here's what Mikael Hed, CEO at Rovio Mobile, had to say about the collaboration:
"In addition to expanding the horizons of two fantastic entertainment brands and creating a great new gaming experience, we have also taken the concept of combining a mobile application and motion picture promotion to an entirely new level."
Initially, the new Angry Birds Rio will launch with 45 levels with more levels and a "couple of surprise or two" to come later as app updates.
Don't let this news worry you though, because Rovio promises that the originality of the game has been unspoiled and a couple of new twists have been added. The game will also feature improved graphics and as a result may have problems running on low performance mobile devices.
Looking at the official trailer below, which we urge you to check out, the angry birds that we know and love are captured and transported to Rio de Janeiro, Brazil, where they have to fight a new sort of baddies and set some other birds free from their captors. Gone are the Pig days, it seems.
I can't wait to get my hands on the Angry Birds Rio and see how the collab has reflected the game look and feel. Until then, I at least hope they release that St. Valentine edition that was teased not long ago.