Ah, those Angry Birds, they seem to never sleep in their endless effort to grab your attention whenever possible. Speaking of which, today a video of the new St. Patrick's Day update pack to Angry Birds Seasons hit YouTube, showing the greenness its going to bring with it.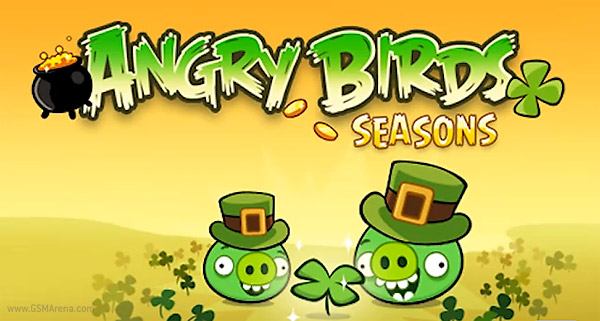 The new update, as usual, will bring 15 green pig slaying levels, specially themed for the traditional Irish holiday. The launch of this refreshing cup of Angry Birds is expected to launch on 17 March, but judging from previous experience (with Valentine's day edition), we can expect it any day now.
Here's some gameplay footage for you to enjoy.
However, this isn't everything Angry Birds related for today. Oh, no. Rovio, the company behind the award-winning game, is working hard on a Facebook version. Initially, it was expected to hit the social website this March, but today Rovio CEO Peter Vesterbacka announced it's going to be delayed for a May release.
Don't worry, though, the newest pearl in the Angry Birds necklace, Rio, is hitting your application stores on March 22. I can't wait to see the what the new recruits joining the existing flock of birds are going to be.
And to wrap the Angry Birds news for today, here are two promo videos of the notorious green pigs starring in their search of eggs. The clips are part of Microsoft's campaign to popularize its search engine, but making mobile gamers search for the hidden golden eggs locations seems a weak strategy to me. Here's what it's all about.
For a limited period, Angry Birds and Angry Birds Seasons feature integrated, contextual Bing searches to help players find solutions for tricky levels, and discover the elusive Golden Eggs. Bing helps players make more informed decisions by providing the best search experience for topics that match the problem at hand.
Enough blabbing, here are two of the videos, with two more coming in the following weeks. Check them out, they are quite entertaining.