The guys over at Motorola couldn't help but announce their latest Android-running smartphones hours before the beginning of this year's CTIA Enterprise & Applications show, which takes place in San Francisco from 6 to 8 October 2010. Along with the GSM-loving Motorola BRAVO, FLIPSIDE and SPICE we get to meet two CDMA-compatible devices, the Motorola DROID PRO and the more affordable CITRUS.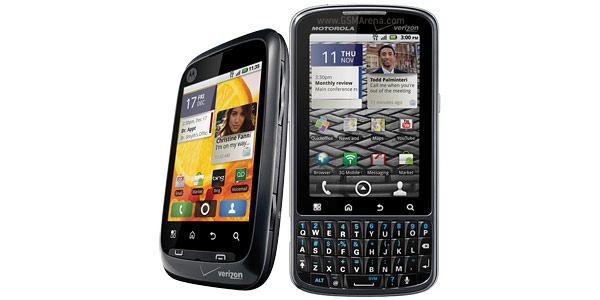 The Motorola DROID PRO saw daylight for the first time moments before the CTIA Enterprise & Applications 2010. It is a QWERTY-fied bar equipped with a 3.1″ capacitive touchscreen of HVGA resolution (320 x 480 pixels) and based on the Android 2.2 a.k.a. Froyo. Thanks to that its web browser features the Adobe Flash Player 10.1, the phone can be used as a mobile hotspot and you can install the Apps downloaded from the Android Market on the memory card.
The DROID PRO is powered by a zippy 1GHz processor, comes with a dual CDMA/GSM chip and on the back there is a 5 megapixel autofocus snapper. Of course, all-you-can-eat connectivity is on board as well. On top of that data encryption is on its way to the DROID PRO (about to become available early 2011) and if your smartphone happens to get lost or stolen you can remote wipe the phone and the microSD card. Remote password management is also to see on the DROID PRO specs list.
The other Motorola device that will soon show up at the Verizon stores is the CITRUS. This is an inexpensive full touch smartphone based on a MOTOBLUR-ed Android 2.1 a.k.a. Eclair. It sports a 3-inch QVGA capacitive, Wi-Fi and Bluetooth connectivity as well as a built-in 3MP fixed-focus camera and a GPS receiver.
Both devices are expected to start selling soon. The DROID PRO will hit the stores in the first week of November while the CITRUS should be launched this quarter. There is still no information on the pricing of both devices, though.