Another day, another Lollipop update rollout. This time we're talking about the LG G Pad 8.3 tablet, in its LTE-capable incarnation, which was launched by Verizon. Following the update to Android 4.4 KitKat, which it got last year, and then another bug fixer, the G Pad 8.3 is now finally receiving the tasty treat known as Android 5.0.2 Lollipop.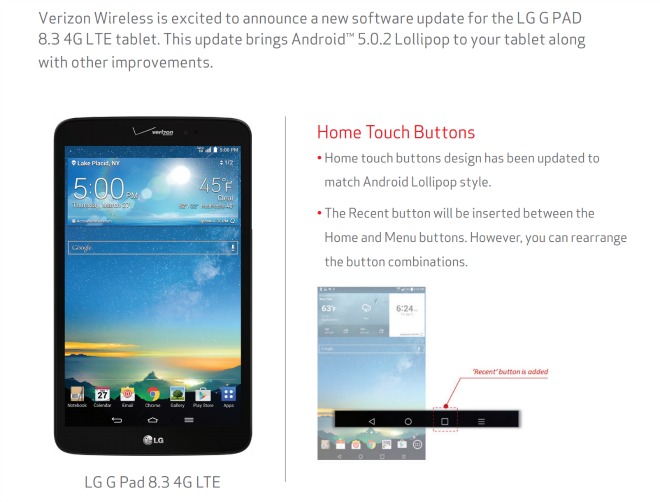 Verizon's support documents say you should expect to see a new software button arrangement (and design), lock screen notifications, smart lock (using proximity to other devices to auto-unlock the tablet), the new notification screen design, the much-hated Interruptions feature that replaces Silent mode, floating action buttons everywhere, screen pinning, search in Settings, multi-user accounts accessible from the notification panel, as well as an "Avoid bad Wi-Fi connections" item in Settings.
As always, since the update is delivered over-the-air, it will roll out in stages. This means it will be a few days (if not even weeks) until all of Verizon's G Pad 8.3 units get it. After applying the update, your tablet will be on software version VK81035A.