The Android 4.3 update has been floating around for a while, with the first ROM being leaked for the Samsung Galaxy S4 Google Play Edition, ironically even before Google's own Nexus device.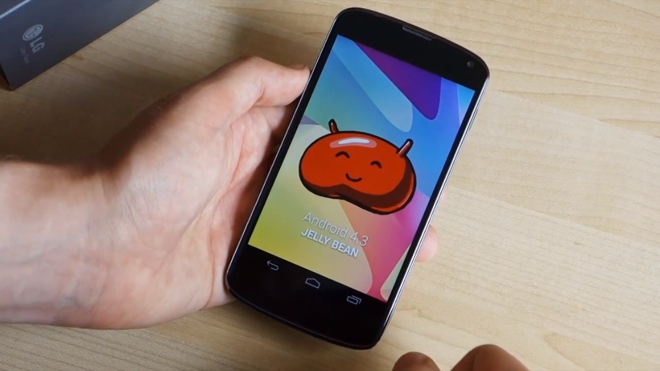 As you probably known, the same update has now been leaked for the Nexus 4 and we now get to learn what has changed since Android 4.2 in more detail. Admittedly, there is not a lot of new stuff here but here's what has been discovered so far.
First of all, there is said to be an improvement in the touch response on the Nexus 4. Users who previously complained about lack of responsiveness from the display are reporting improvement after updating to 4.3, so there's that to look forward to.
There are some improvements to the connectivity features. The Bluetooth now gets support for the low energy standard, which reduces power consumption when used with other Bluetooth devices that support this standard. This standard is usually used by devices such as fitness accessories and smart watches that don't need to transfer a lot of data but need a constant connection. Meanwhile, a new setting for Wi-Fi lets applications quickly switch on the Wi-Fi to get a quick lock on your location and then switch it back off without bothering you to enable Wi-Fi (E.g., Google Maps).
There have been some changes to the dialer as well. You can now enter numbers and the app will match it to your saved contacts and suggest numbers accordingly. This feature has been in custom OEM skins since eons but it's good to see it finally being added to stock Android. You can also enter pauses in the number now through the menu below.
The camera app has also been updated. It's essentially the same one we saw on the Google Play Editions of the Samsung Galaxy S4 and the HTC One, where the UI appears as an arc above your thumb instead of the previous circle. The UI now also rotates to landscape even if auto-rotation has been disabled, something which wasn't possible before.
There are some developer focused changes as well, such as a running graph on the screen that tells you when an app dips below the magic 60fps framerate so you can tune your app accordingly a list that shows every notification you have received in the past even after you remove it from the notification drawer.
This is all that has been found so far. You can check the video below for a demonstration of some of these features.