For those of you who haven't heard of Staples – it's one of the biggest stores for office equipment in the world. And they seem to be awaiting new additions to their tablet line-up from Samsung, HTC, Dell, Acer, Toshiba and HP. All of them labeled as "Coming Soon".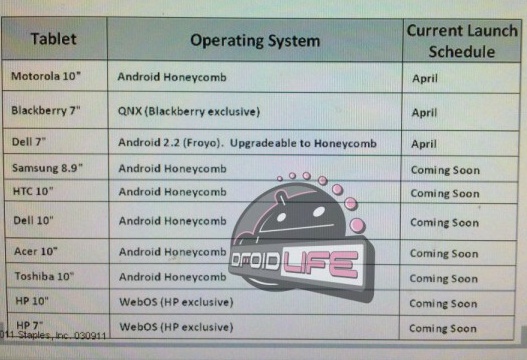 First off, judging by the information given by Staples, the soon to be un-packed Samsung 8.9-inch tab is a reality. Samsung is announcing it on the 23rd of March. It's supposed to be an Android 3.0 Honeycomb-driven device.
Next up is a newcomer by HTC. Sporting a 10-inch screen and Android 3.0 Honeycomb, this is definitely an intriguing gadget. HTC has only one tablet so far and it's the Flyer – the 7-inch Android 2.4 Gingerbread device, HTC announced at the 2011 MWC in Barcelona.
Toshiba also have an Android 3.0 Honeycomb slate on the "Coming Soon" list. It sports a 10-inch display as well. Apart from that, we have no new info for you guys.
HP is among the manufacturers with two devices. Both are running on the WebOS platform. One is a 7-inch tab and the other a 10-inch slate. Though the latter may be the HP TouchPad, which is 9.7-inches.
Acer and Dell have 10-inch Honeycomb tablets each. Oh, yes and Motorola is in the list with a 10-inch tablet, perhaps the Xoom?
Whether you call them slates, tabs, tablets or mobile computers, these devices seem like the hottest new trend in the tech world.