AMD just unveiled its second generation lineup of APUs. The replacement for the current Llano series Accelerated Processing Units is aimed at people seeking budget PCs and notebooks, which bears the name Trinity and boasts better efficiency and speed.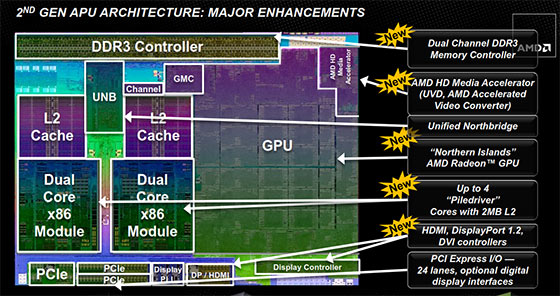 In fact, the Trinity packs double the performance per watt of Lliano, which is quite an impressive achievement. Therefore, AMD's new APU offering should impose an interesting threat to Intel's Ivy Bridge in ultrathin notebooks and economy PC builds.
Featuring up to four Piledriver CPU cores at their hearts, the Trinity APUs also pack a dual channel DDR3 memory controller, an AMD HD Media Accelerator and an unified northbridge for improved power efficiency. The graphics power comes from Radeon HD 7000 graphics, which AMD claim provides up to 56 percent better performance than the previous Radeon generation, which was to be found in the Llano series. Moreover, the CPU gains are estimated to about 28%.
AMD will launch three different Trinity APU models for mainstream notebooks: A10-4600M, A8-4500M, and A6-4400M and A10-4655M and A6-4455M for ultrathin notebooks. All of them are going to be built using the 32nm manufacturing process and are bigger in size measuring at 246 square millimeters compared to Llano's 228 square millimeters.
Efficiency has been vastly improved as well, despite the unchanged process. While the Llano APUs require 35W for dual-cores and 45W for quad-cores on notebooks, Trinity requires just 17W and 35W for dual and quad-cores respectively. For desktop computers, wattage requirements haven't been altered from Llano and remain 65W to 100W.