Amazon launched Instant Video and Prime Instant Video in the UK and to celebrate, it slashed 20% of all Kindle Fire prices.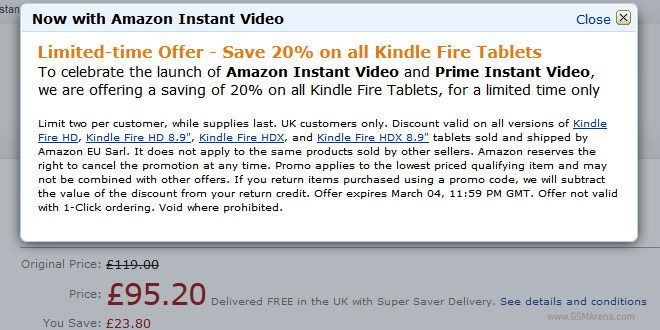 The offer is valid until March 4, so you have about a week to decide.
The base model, Fire HD with 8GB storage and Special Offers (i.e. ads), is £95.20. For the flagship 7″ model, the Fire HDX (16GB, Special Offers, Wi-Fi only), it's £160.

For comparison, a 16GB Wi-Fi only Nexus 7 (2014) is £200. If you're looking for a cheap deal though, the 7″ Nook HD is at £80 with similar specs, plus microSD card slot and Google Play Store access.
This is an important point if you're unfamiliar with Kindle Fires – they run customized Android and do not have access to the Play Store, instead you use Amazon's app and content store.
By the way, the price for Prime in the UK jumped from £50 to £80 a year. If you buy a Fire by March 4 though, you get a 30-day free trial for Prime.
In related news, Amazon China now offers Kindle Fires too.