Amazon just announced its financial results for the January-Mach quarter and it beat analysts' expectations with $19.74 billion in revenue, up 23% compared to the first quarter of last year.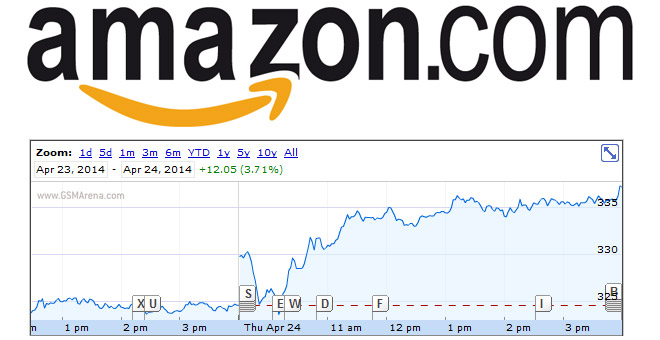 The retailer has been making big moves recently – it released a set top box (Fire TV), a tool to make shopping easier (Dash) and made some HBO shows available on its streaming services. It's rumored to be working on a phone too.
Anyway, Amazon continues to operate on razor-thin margins with $108 million in net income, up from $82 million in the year-ago quarter. Basic earnings per share were $0.23, up from $0.18. Cash and cash equivalents went down to $5 billion from $8.7 billion.
In case you're wondering where the money is going, aside from developing the Fire TV streaming box and signing content deals, Amazon Game Studios started on a game (Sev Zero), while Amazon Studios greenlit six pilots for full-season developments.
North America once again makes up the bulk of the revenue for the quarter of $11.9 billion in revenue (up from $9.4 billion last year), compared to international revenue of $7.8 billion (up from $6.7 billion).
The guidance for the next quarter is revenue of $18.1-$19.8 billion, growing between 15% and 26% from the second quarter of next year. However, Amazon expects to post an operating loss anywhere between $55 million and $455 million (compared to a small profit of $79 million in Q2 2013).
Amazon stock was up 3.87% yesterday, though in pre-market trading today it has fallen by 1.26%.
Check out the press release for more detailed numbers.