As expected, Amazon took the wraps off its own set-top box today. Dubbed Amazon Fire TV, the $99 gadget will compete with the likes of Apple TV, Google Chromecast, and Roku 3 in today's competitive marketplace.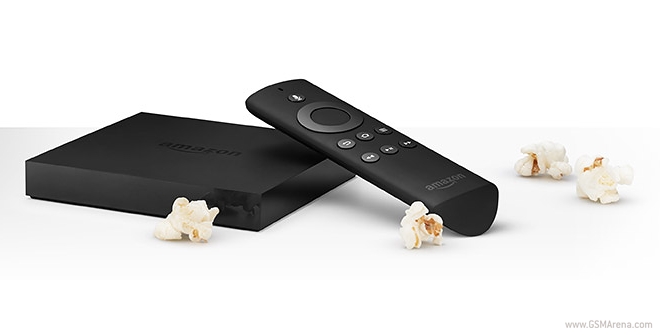 In addition to the usual array of content streaming tricks, the Amazon Fire TV packs solid gaming capabilities. An optional dedicated controller and capable hardware allow the set-top box to stand out from its competitors with video gaming chops and smooth UI experience.
The Amazon Fire TV is powered by a Qualcomm Snapdragon S4 chipset with 1.7GHz Krait 300 CPUs and Adreno 320 GPU. The box packs 2GB of RAM and 8GB of built-in memory. Connectivity options include dual-band, dual-antenna Wi-Fi, Bluetooth 4.0, type A HDMI (there is support for output resolution of 720p@60fps and 1080p@60fps), 10/100 Ethernet, USB 2.0, optical audio, and 5.5mm DC jack.
Curiously, there is no word on the OS of the Fire TV. Our guess is that it runs a modified Android build.
Amazon Fire TV will ship with a sleek-looking remote control which will support voice commands. The optional gaming controller will cost $39.99.
In terms of available content, the set-top box will unsurprisingly feature Amazon Prime on tops of the list. Netflix, Hulu, Showtime Anytime, and a plethora of other popular services will also be available. HBO Go is the only major omission.
Available games will include both free and paid titles. Over a thousand of the former will be available.
Amazon released its first ad for the Fire TV. Starring Gary Busey, the clip showcases the voice control prowess of the device. Check it out below.
The Amazon Fire TV is already available to order. You can snag one up by hitting the source link below.