If the recently unveiled Nexus Player is Google's answer to Amazon's Fire TV (among other competitors), then Amazon's new Fire TV Stick is surely meant to compete head-on with Google's Chromecast.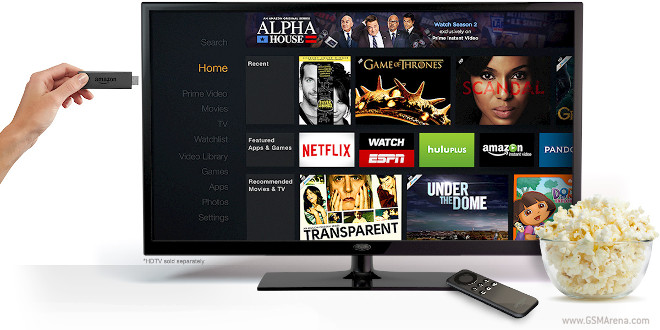 The streaming HDMI dongle has enjoyed great success, thanks primarily to how affordable it is. And now Amazon joins the fray with its very own such device, one that it (obviously) touts to be superior to the Chromecast.
The Fire TV Stick is normally priced at $39, but if you're an Amazon Prime member you can get it for just $19. That said, this special offer is valid for just two days, so you can only take advantage of it until Wednesday. The dongle is at the pre-order phase currently, with shipping estimated to start on November 19.
Amazon says the Fire TV Stick has 8GB of storage and 1GB of RAM. That's actually four times the storage space and twice the memory of the Chromecast, and the Fire TV Stick also features a dual-core processor and dual-band Wi-Fi 802.11n, unlike Google's offering. On the other hand, the Fire TV Stick has an actual UI on board (much like the Fire TV), which surely needs some more hardware oomph to run smoothly compared with the Chromecast's bare bones Backdrop feature.
The new Amazon dongle comes with the Fire TV remote in the box (though this isn't voice-enabled), and there's also a dedicated Android app for it (iOS coming soon). You can stream stuff from Netflix, Amazon Instant Video, Hulu, YouTube, Vevo, Pandora, Amazon Music, iHeartRadio, Spotify, and "much more" using the Fire TV Stick. And you can also play over 200 games on it.