If you're a U.S. customer and want to get some of the 8.9″ Kindle Fire HD versions, today might be the best time to do it. Amazon's deal of the deal lets you save $50 if you purchase one of the two slates today.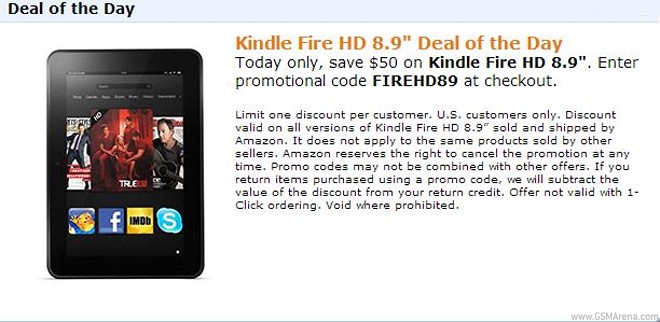 The $250/$450 prices are valid with a promo code, which you enter at checkout .
The Kindle Fire HD 8.9″ is easy to like with an 8.9″ 1920 x 1200 resolution screen, 16GB storage (or 32GB for the base LTE version), heavily-customized Android platform with easy access to the Amazon Appstore (but no Google Play store, sadly). Perhaps, Amazon is starting to feel the heat from Google and its quite aggressively priced Nexus 10?
You can check out the deal over at the source link below.