Samsung removed the microSD card slot from its latest Galaxy S6 flagship, but it did upgrade the base storage to 32GB. How much storage do you get on a 32GB phone, anyway?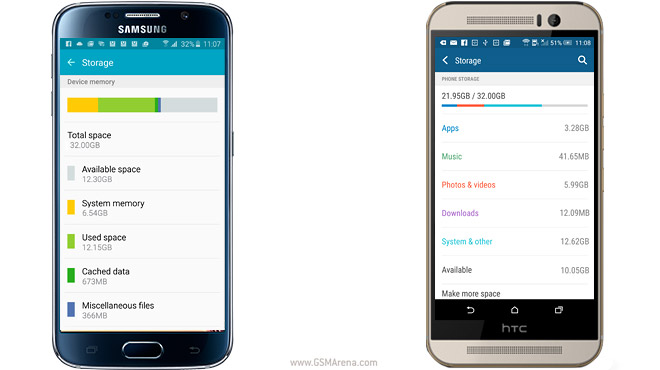 Well, we have plenty of photos and videos on ours, but before we started shooting camera samples there were 23GB available.
The system-reserved storage is 6.5GB, but there were a couple of gigs allotted under the "Used space" heading. This means 9GB of storage is taken up the moment you open the box. You can disable apps, but not uninstall them.
Anyway, the 64GB model will have around 54GB left over and the 128GB will have 118GB for your stuff.
We also have an HTC One M9 in the office, which comes in 32GB only (it does have a microSD card slot though). HTC reserve more out of the box, with System & other taking up around 12GB (a bit more after installing the last update).