TouchWiz has been regularly criticized for being much too crowded and packed with features beyond the needs of the average user. Actually, the phrase "resource hog" often popped up and we can't wholeheartedly disagree.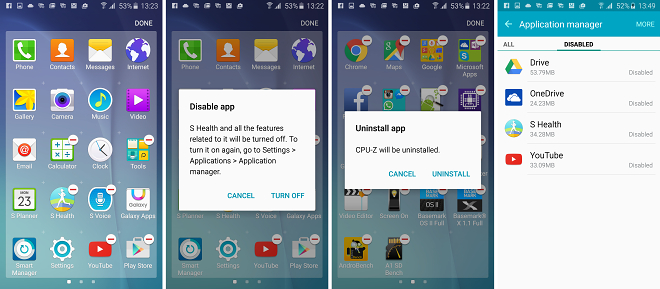 Samsung aimed at putting critics to rest in that department as well, after having addressed the other main source of complaints, choice of materials. With the latest iteration of the company's proprietary overlay, which debuted on the Galaxy S6, the user is now given the option to disable unused apps that are a part of the original package.
Mind you, the operative word here is "disable" and not uninstall. While regular aftermarket apps you download off the Play Store can be removed altogether, the preinstalled bunch gets a different treatment.
Both Samsung's apps and the Microsoft package can be disabled, which hides them from the app drawer and puts them in list within the Application Manager where they remain dormant. You can access it from the Settings menu and re-enable the apps if you find out you might actually start tracking your daily strides, after all.
It is a reasonable compromise between keeping both the user and corporate Samsung and Microsoft happy at the same time, and is a commendable step in the right direction.