Starting today, BestBuy has a great deal on the current-gen MacBook Airs. You can buy them for $200 off Apple's regular retail price.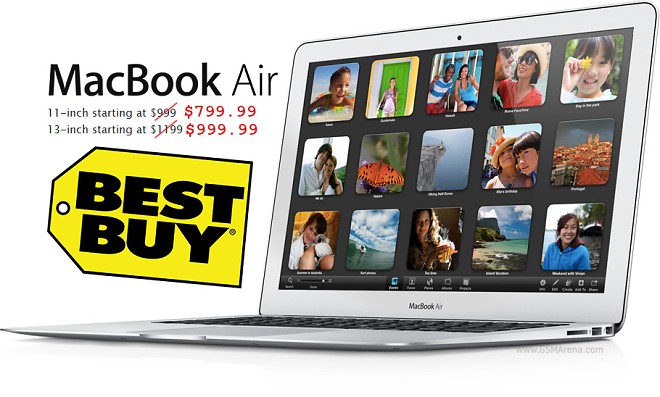 I've never seen Apple products get such a deep discount – the prices are lower than those of Apple's refurbished stock of MacBook Airs. I don't know about you, but I had to double check that it's not Black Friday all over again.
I am not implying in any way that there isn't a more sensible ultrabook buy than the 11- and 13-inch MacBook Airs, but if you are on the market for one, this is a deal you just can't pass on. Of course, the entry-level 11-inch notebook ($799.99) has some measly 64 gigs worth of storage, but I guess that both versions are acceptable in their respective 128GB flavors. Here are two quick links:
13-inch MacBook Air 128GB – $999.99
11-inch MacBook Air 128GB – $899.99
In case you are wondering, aside from the bigger display size, the 13-inch one has a higher resolution screen, a faster CPU and an SD card reader.
Then of course, we shouldn't forget that come this summer, Apple will probably introduce a new-gen MacBook Airs and rumors say these would have Retina screens, among other things. But as we saw with the MacBook Pro with a Retina screen – this thing comes with a premium of up to $500, so I would guess a $200 discount on the current gen would still be a good score even 6 months from now.
The deal starts today and will run tomorrow, too, but stock is limited so if you are thinking of making a move, you better make it fast.
Update: Amazon seems to have decided to get into the price matching race with Best Buy. Although the prices are fluctuating, you can get $200 off on both the 11-inch as well as the 13-inch models (except for the higher specced ones). At worst you'll get $100 off. Keep checking to get the best discount possible, or just go to the nearest Best Buy if you can.