A Verizon-bound CDMA version of the Samsung Galaxy Tab had been churning in the rumor mill for over a month when Verizon issued a press release confirming it. It's expected in November for 600 US dollars.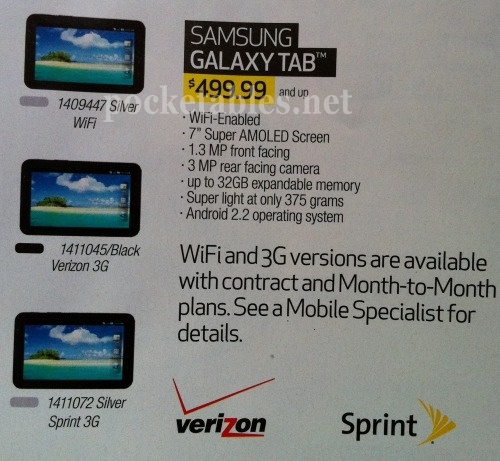 Now, spotted at Best Buy are ads for a Wi-Fi only Galaxy Tab (we've heard of that too) and they list the screen as – get this – Super AMOLED…
The other specs of the Wi-Fi only Samsung Galaxy Tab seem to be the unchanged – save for the weight, which has gone slightly down to 375 grams. The price has been reduced to 499.99 US dollars (there are no rebates), too.
The Wi-Fi + CDMA version will be available for both Verizon and Sprint on contract with a month to month plan. They are labeled Black and Silver respectively, though the accompanying photos show only black Galaxy Tabs.
What I'm most exited about (and most doubtful of) is the 7" SuperAMOLED screen. As you know, the Wi-Fi + GSM version Samsung Galaxy Tab comes with an LCD screen and it sound dubious that Samsung managed to create a 7″ SuperAMOLED screen and are able to produce enough units to feed the demand? With the current all-round shortage of AMOLED units, I'll believe it when I see it.
The Wi-Fi + CDMA version is expected November, but we are yet to see when the Wi-Fi only version will come out.