The iOS 4 brought many changes and new features to all the compatible devices. We just unearthed a new feature that has so far laid low below our radar. It obviously skipped the official praises by Apple as well and you only get to see it once you install a compatible application from the Apple AppStore.
But without further ado, I present you… drag-and-drop file transfers from any desktop computer to any iOS device (incl. iPad) over a cable USB connection. No syncing needed. How's that for a start?
If I remember correctly, the only hint of the new feature was an iTunes screenshot back from the day when iOS 4 was still in beta development. You might recall that, but here's the direct link.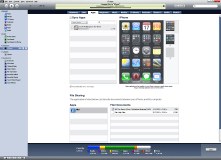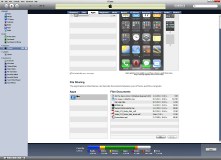 The new USB sharing feature shown from within iTunes
We discovered the drag-and-drop functionality when we installed the nicely rated Filer 2.0.1 app from the AppStore. Before I continue, I just like to be clear, I'm not getting anything from the guy(s) behind Filer, it's just an awesome app that deserves a pat on the back.
Besides advanced file management features such as extracting files from ZIP and RAR archives or compressing files to ZIP, Filer also comes with an integrated web browser and a file downloader that allows you to snatch most files off the internet as you please (it downloads them in the background). It can also tap into your Dropbox account and work with the files there (if you use their popular service).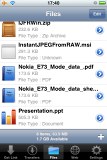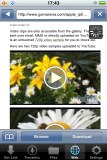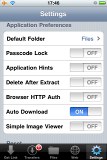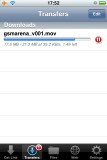 File user interface on the iPhone: files list • web browser • app settings • download manager
But besides getting the files to your iDevice (be it iPad or iPhone), Filer also takes care of opening and previewing those – even office documents. You can even opt for checking them out in another application straight from Filer. And it's got a custom interface for the big screen of the iPad without charging you extra.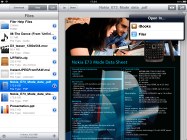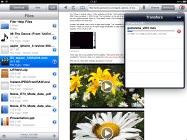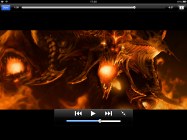 File user interface on the iPad: file tree • download manager • video player
Transferring the files is easy too – Filer creates both an HTTP and a FTP file server on your local network, so you can access the files wirelessly through your computer's browser. OR, you can simply use the USB cable to drag-and-drop them on your computer.
Yeap, the most interesting thing about it is the so-called iTunes USB sharing – a new feature, which has obviously been introduced by iOS 4 and the latest iTunes.
Once you connect your iDevice to iTunes, you'll see a new placeholder under the Applications tab in iTunes. It shows all the files hosted by Filer on your iDevice. You can add new ones or download the existing ones as easy as cake. You don't need to sync to iTunes, you don't even need to have the iDevice synced to that particluar computer.
For all it's worth, it could be your friend's PC or Mac, it doesn't matter. Drop a file and it's there on the iDevice. Drag a file to the computer and voilà, it's there on your desktop. All changes are instant – just like a through a normal file browser. And you don't need to have your iDevice jailbroken for this to work.
Using the new USB file transfer we were able to sneak on the iPad a MOV video file that was otherwise rejected by iTunes as incompatible. And guess what – it played just fine from within Filer.
So overall, kudos to the Filer developer and to Apple – Nice work, guys! You've finally integrated one of the most sought after features in the latest OS and you prefer to stay mum about it. What's more, you don't make it an inherent feature of the device, but users have to buy themselves a separate application to use the features. That puts a little dent in your "We love our users" message, don't you think?