Welcome the new benchmark record breaker, the T-Mobile G2. You can now overclock its processor from the miserable 800 MHz to the mind-blowing 1420 MHz. All you need to do is spend a few minutes reading the instructions and download a few files.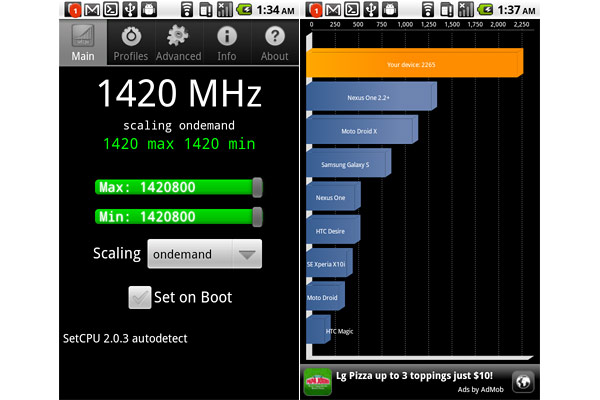 But the final results is worth everything. Just take a look at the screenshot above – the overclocked T-Mobile G2 (a.k.a. HTC Desire Z) CPU allows the Froyo-serving smartphone to offer you unbeatable performance.
The good thing about this overclocking method is that it doesn't require permanent root – a kernel module is used instead of an actual kernel. The kernel module should be re-compiled in order to work with other devices.
The following video demonstrates how the G2 is doing after having its processor overclocked.
Follow the source link below to see how you can improve your T-Mobile G2′s performance. However, keep in mind this isn't as harmless as it sounds so read carefully the instructions and proceed only if you know what you are doing.