By now it's all but official that the Samsung Galaxy S4 is powered by Samsung's Exynos 5 Octa chipset, featuring 4 Cortex-A15 cores to do the heavy lifting and 4 Cortex-A7 cores, which kick in for less demanding tasks and save power. Thankfully, we were also able to get an idea of its performance thanks to the benchmark tests in the early review that just leaked.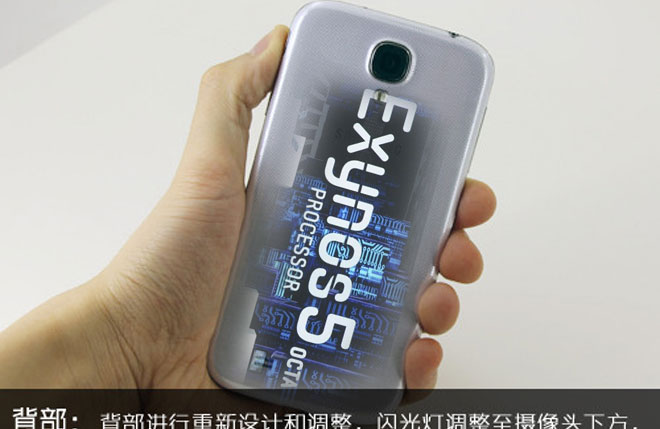 Exynos 5410 Octa employs ARM's big.LITTLE architecture with its Cortex-A15 CPU quartet clocked at 1.8GHz and theCortex-A7 cores running at 1.2GHz. It certainly looks like a combo ready to be a benchmark champion, but it turns out that its software is unable to keep up with it just yet.
As tested by the Chinese, the Galaxy S4 scores 22446 points in the AnTuTu benchmark suite, which is a good 232 points less than what we got from the Snapdragon 600 (quad Krait 300)-powred HTC One. This might be a bit disappointing, but you should keep in mind the Galaxy S4 used for the review is a pre-release unit with pre-release software and hardware, so the scores should be a lot better when the phone hits the shelves.
AnTuTu
Higher is better
HTC One




22678

Samsung Galaxy S4




22446

Sony Xperia Z




20794

LG Optimus G Pro




20056

HTC Butterfly




19513

Samsung Galaxy S III




15547

Oppo Find 5




15167
As for testing its web browsing capabilities, the Galaxy S4 was put through its paces by the composite Vellamo benchmarking test. It scored 1522 here, which coincidentally is just as much as the Optimus G scored. Again, however, we expect the score to improve drastically by the time the Galaxy S4 hits the shelves, particularly when you consider how well the Galaxy Note II does.
Vellamo
Higher is better
Samsung Galaxy Note II




2418

HTC One




2382

Sony Xperia Z




2189

HTC One X (Tegra 3)




2078

Asus Padfone 2




1717

Oppo Find 5




1658

Samsung Galaxy S III




1641

LG Optimus 4X HD




1568

Samsung Galaxy S4




1522

LG Optimus G




1522

Meizu MX 4-core




1468

Nexus 4




1310