The Samsung Galaxy Note 10.1 got off to a rocky start after its official announcement at the Mobile World Congress in Barcelona this year, after which it returned to the company's R&D drawing board for a specs overhaul.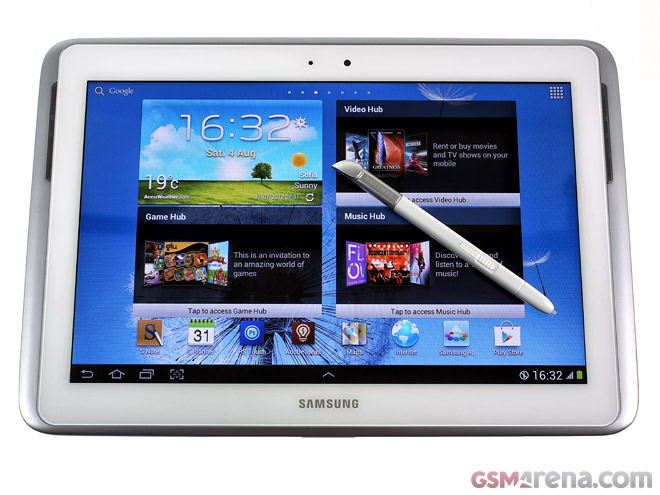 And several months later, here it is – the brand new Galaxy Note 10.1 with more powerful innards ready to take over the tablet scene. Or so it thinks.
Here's a quick rundown. The Galaxy Note 10.1 is powered by the same Exynos 4412 chipset with a quad-core 1.4GHz processor and Mali-400MP GPU found in the Galaxy S III. And thanks to the 2GB of RAM, you get a truly multitasking-ready device.
However, the news aren't so rosy in terms of screen. It's a 10.1-inch PLS TFT screen with a resolution of 1280×800 pixels. Samsung are not using a Super AMOLED panel and the resolution is nowhere near FullHD.
Despite this little nitpick, the Galaxy Note 10.1 comes with a ton of useful features such as a microSD card slot, LED flash for the 5MP camera and 3G connectivity. At the front, there's a 1.9MP camera for video chatting.
But the pièce de résistance of the Galaxy Note 10.1 is its special stylus called S Pen. With its help you can quickly write down notes, draw a funny picture or even make advanced modifications to a photo.
The latter is done thanks to the Adobe Photoshop Touch app, which comes for free on the tablet. It takes the Galaxy Note 10.1 to a whole new level, allowing professional as well as regular users to make photo adjustments while on the go.
Measuring 256.7 x 175.3 x 8.9 mm and weighing 583 grams, the tablet is going to find a comfortable place in nearly every bag and you won't break any sweat carrying it around.
Samsung has thrown in almost everything its got in terms of software. The Galaxy Note 10.1 runs Android 4.0.4 Ice Cream Sandwich with TouchWiz 4.0 sprinkled on top. It adds really useful features to the stock Android experience like Mini apps, useful widgets and a few essential Samsung apps like S Memo, S Chat and more.
Check out our Samsung Galaxy Note 10.1 hands-on video below.
We are tirelessly working on the Galaxy Note 10.1 review, hopefully, you will be able to enjoy it in the coming days.