The Pangu dev team has now released their iOS 8 jailbreaking magic for OS X.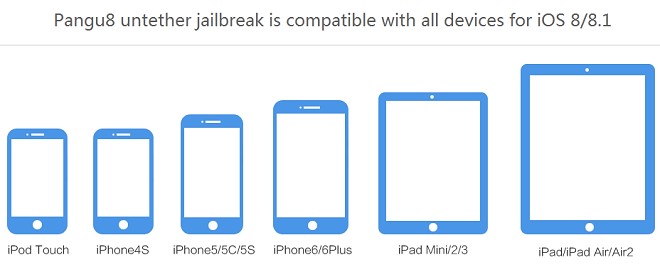 The Pangu jailbreak tool has been the go-to iOS jailbreak tool for quite some time now. Its latest version has has been released a few days ago, allowing you to jailbreak any device running iOS8 or iOS8.1. This includes the new iPhone 6 and 6 Plus and the new iPad Air 2 and iPad mini 3. Unfortunately, it has only been available for Windows computers so far. Today, this has changed.
This year we've been witnessing the most quickly released jailbreak solution in years. In previous years, it has taken developers months to find an exploit in the next iteration of iOS. Cydia's creator, Saurik, has confirmed on Twitter that the iOS 8.x tool is already looking all nice and stable.
Pangu is developed by Chinese developers, far away from Apple's lawyers, but it has a perfectly good English UI. Interested? Hit up the download link below. But have a backup handy before you start messing with your iOS device, alright? And don't take too much time to think it over as Chinese sources suggest Apple's iOS 8.1.1 beta already has the Pangu jailbreak exploit all patched up.
Also here's a tutorial how to use it.