Oppo's Find 7 and Find 7a aren't new devices anymore, as they were last year's flagships for the Chinese company. That said, Oppo is still selling them, but at a steep discount – at least if you choose to buy one before July 14.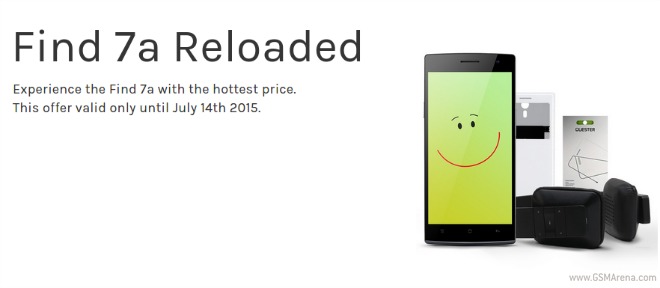 This applies if you're in the US and order from Oppo's official online store. If so, you can purchase a Find 7a for only $289, and the higher-end Find 7 for just $329.
To put these numbers in perspective, consider that the initial selling price for the Find 7 was $620, while the Find 7a went for no less than $549. Of course, time has passed and the two handsets aren't top of the line anymore. However, they're still plenty capable given that last year they were Oppo's premier offerings. Both smartphones come with free shipping from Oppo's US warehouse, so waiting times shouldn't be excessive after you've placed an order.
The duo share a lot of specs, such as the Qualcomm Snapdragon 801 chipset, 13 MP rear camera with LED flash, 5 MP front-facing unit, and the screen size: 5.5″. That said, the Find 7 has QHD resolution, 3GB of RAM, 32 GB of built-in storage, and a 3,000 mAh battery, whereas the Find 7a has to make do with 1080p, 2GB of RAM, 16GB of space, and a 2,800 mAh cell.