Leaked slides of what looks to be internal presentation material about the rumored Nvidia Shield tablet and game controller have made it online. Now we know that Nvidia will announce the devices on July 22 and will release them on July 29 in the US and on August 14 in Europe.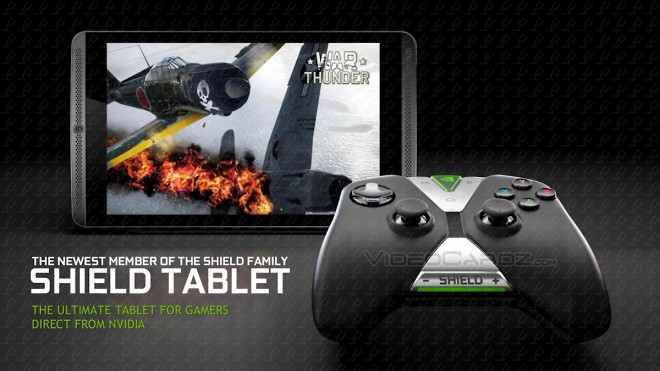 Recently, a leaked product image showed us how the Nvidia Shield tablet would look like. Today, we get tons of further details about the long rumored tablet and gaming controller by the company.
At the heart of the Shield tablet is Nvidia Tegra K1 mobile chipset, which supposedly brings an at least twice as high GPU performance as leading mobile platforms such as the Snapdragon 800 and Apple A7. With a screen diagonal of 8 inches and a resolution of 1920x1080px, the IPS display on the tablet should be enough to enjoy gaming on the go wherever you are. There is also a set of front facing stereo speakers, two 5MP cameras – one on the front and another one on the back – GPS and Wi-Fi MIMO connectivity. The Nvidia Shield tablet also comes with a built-in advanced stylus system called Direct Stylus 2 with 3D Paint.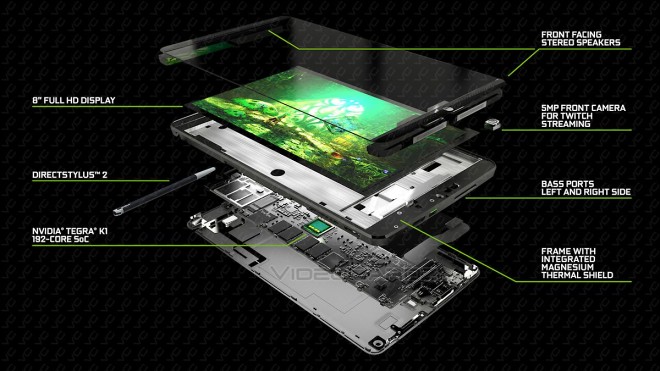 The Nvidia Shield game controller is meant as a companion device for the Shield tablet and for other Shield hardware and will be compatible only with them. The controller is wireless and uses Wi-Fi Direct to communicate to the tablet. It has a rechargeable Li-Ion battery inside.
As for pricing, the Nvidia Shield game controller will cost $60, while the tablet will start at $300 for the 16GB Wi-Fi-only version and will go as high as $400 for the 32GB Wi-Fi+LTE version. A microSD slot is available on both versions. The 3G/LTE version will be compatible with AT&T and T-Mobile bands in the US.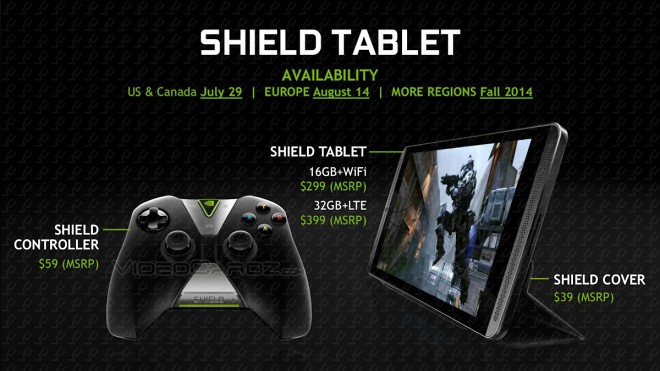 Check out even more leaked info slides at the Source link below.