The Moto 360 smartwatch has been out for a while, but so far only in the iteration that comes with leather straps. That all changes today, though, since Motorola has officially announced that two models with metal bands are now available to purchase.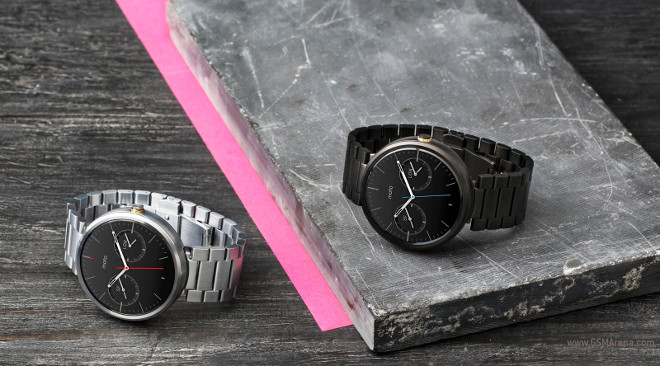 You'll need to pay a $50 premium for the metal, however. Whereas the leather 360 costs $249, the metal models retail for $299. Right now you can order either a light or dark Moto 360 with matching metal band from Motorola's own website.
The gold model which was spotted at Amazon a while back (but has since been pulled) is listed at Motorola as "coming soon". It's going to be priced at $329, and it will come with an 18mm metal band, slimmer than the 23mm ones launching today. In the future we'll also get a grey version of the watch with the 18mm metal band, and this will cost $299. Both slim band options will be out "in time for the holidays".
If you already have a Moto 360, you'll soon be able to get interchangeable 'stone', black, and 'cognac' leather straps, along with the light and dark metal bands. The Moto Connect app (which is available in the Play Store) will get an update in the next few days, and that will let you create your own watch faces, customizing everything you want about them, from the background to the style of the watch hands. Through the same Moto Connect update, you'll also get access to Moto Body, which tracks your steps, distance, heart rate, and calories. And based on the info it collects, Moto Body will suggest new goals for you to reach.