Analytics and research company IDC has conducted a survey asking some 50,000 people across 25 countries what are their main drivers when it comes to getting a new smartphone.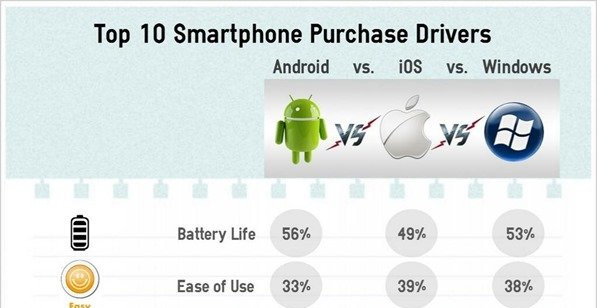 The results are quite interesting as they show what customers are looking for in a smartphone and 40% of buyers who went the Windows Phone route looked specifically for a device running Microsoft's operating system.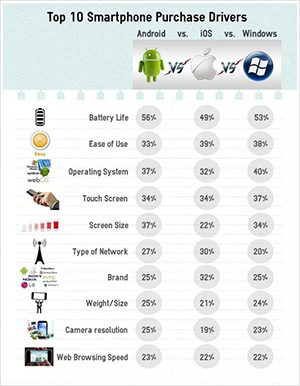 Of those who got an Android phone, just 37% narrowed their search to a phone running the OS, while Apple's iOS isn't too far behind at 32%. As you can see from the image below, 56% and 53% of the customers seeking a phone with a good battery life headed towards Android and Windows Phone, respectively.
Another area where Windows Phone has lured a noticeable amount of customers is its ease of use. However, at 38% it loses to iOS by just 1%. Android received 33% of customer votes as far as ease of use is concerned, but leads in camera resolution, web browsing speed and screen size.
Finally, about a third of all surveyed customers pointed out that brand plays an important role in the purchasing decision. Windows Phone and Android get 25% each, while iOS leads with 32%.
Now is the perfect time for you to chime in and tell us your top 3 most important smartphone purchasing factors.