A tipster just sent us some really interesting gossip – Samsung is working on a Galaxy S III-based point-and-shoot camera. The convergence device – called Samsung Galaxy S camera – features the trademark 4.8″ SuperAMOLED screen and Android 4.0 Ice Cream Sandwich (no info on the chipset though).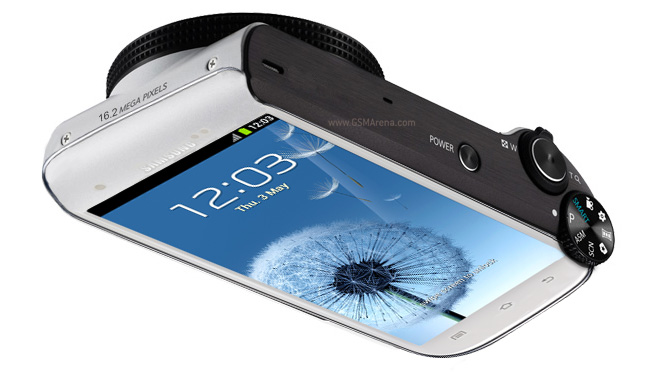 Yes, it does sound a bit too good to be true, but let's dream for a moment and here what our tipster (who has proven reliable on previous occasions) has to say about this camera he claims to have seen with his own eye two weeks ago.
The Samsung Galaxy S camera is described as a Galaxy S III glued to the back of a point-and-shoot camera, with no physical buttons on the back. It is reportedly 1.5 to 2 times thicker than an S III, but that seems too little given the rumored 10x zoom. The camera will feature a 16MP sensor of unkown size, a pop-out Xenon flash and a curved right side to help with the ergonomics.
The Galaxy S Camera will run on Ice Cream Sandwich and will come in Wi-Fi and 3G + Wi-Fi versions (only mobile data, no voice), which is reportedly being pitched to various carriers.
This camera will supposedly be announced at IFA, alongside the Galaxy Note 2. Samsung do have a tendency to announce experimental products at IFA, like its first tablet two year ago and then its first AMOLED tablet and phoneblet last year, so there's a chance of this turning out to be true. It won't be the first Android-powered camera either, but having seen no actual proof of the product ourselves, we advise you to take this all with a pinch of salt.
Thanks to our tipster, who requested to remain anonymous.
Note that the image above is just a Photoshop mock-up based on the description we got and not an actual product image.