BlackBerry's well known messaging app, BBM, has today been updated to version 2.6 on iOS, Android, and the company's own smartphones.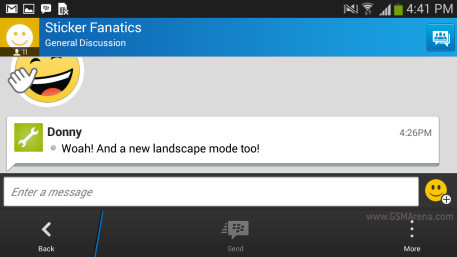 The update adds one of the most requested features, which apparently was the support for sending stickers in group chats.
Additionally, the Timed Messages feature that debuted in October has been improved. You can now set a timer that lasts up to 60 seconds, again following user feedback. And the stuff you send can be viewed multiple times until the timer expires. If you're not familiar with Timed Messages, it basically enables 'disappearing' messages on the BBM platform.
For iOS, BBM has received a complete visual overhaul, which should make it look "more at home than ever before on iOS 8″. The app also got support for the new screen sizes and resolutions employed by the iPhone 6 and iPhone 6 Plus. The UI is now flat and it has some "attractive transparencies".
Finally, BBM just got support for the latest version of Android, 5.0 Lollipop, as well as a landscape mode for Google's mobile OS. On BlackBerry 10, you can now share multiple pictures and other attachments at the same time.
According to BlackBerry, it may take 24 hours or more for the updated app to make its way to the app store serving your mobile platform of choice, so if you don't have it yet you just need a little bit of patience.