Today Apple has pushed out the first software update for its first wearable. The Apple Watch is getting Watch OS 1.0.1 through the companion iPhone app for the smartwatch. The download comes in at 51.6MB, and as the version number implies this is all about fixing bugs and improving performance for various bits of the Apple Watch experience.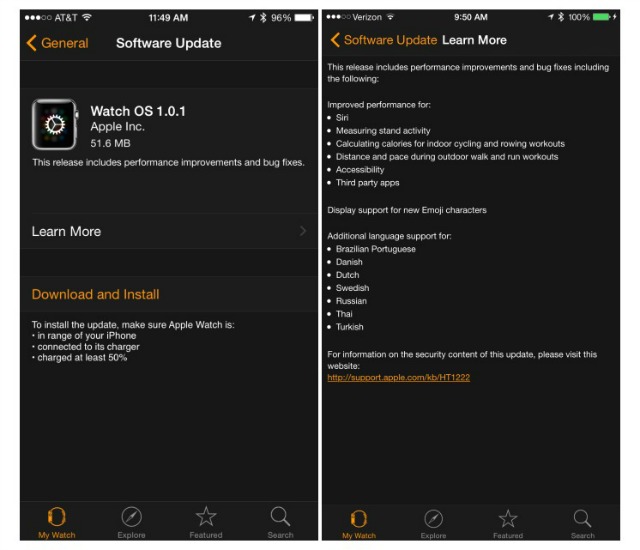 In fact, Apple lists no less than six items under the "improved performance" heading in its official release notes. So after applying the new software, expect to see enhanced operation in third party apps, Siri, measuring stand activity, calculating calories for indoor cycling and rowing workouts, distance and pace calculations during outdoor walk and run workouts, as well as better accessibility features.
New emojis are supported too, and a few new languages have made it to the Apple Watch. These are Brazilian Portuguese, Danish, Dutch, Swedish, Russian, Thai, and Turkish. To install the update, your watch needs to be at least 50% charged, in range of your iPhone, and connected to its charger.
Obviously then, this isn't the rumored big update coming to the Apple Watch soon, which we reported on earlier. We assume that will come with Watch OS 1.1, but in the meantime these fixes are welcome.