It has been almost a month since Apple launches the iPhone 6 and iPhone 6 Plus and the smartphone duo has already reached more than 21 million customers. According to data obtained by Typhone.nl, Apple sold about 4 million iPhone 6 Plus and 17 million iPhone 6 units.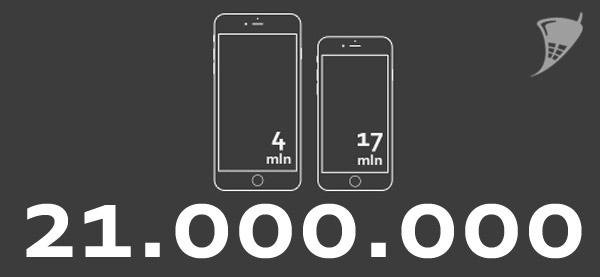 This calls for an interesting infographic that puts things into perspective. Did you know that the cumulative charge of all the batteries inside the 21 million smartphones is enough to power a Tesla Model S go around the world 25 times? Well, we didn't either, but that's not the only fun fact you can share with your friends and colleagues.
Stacking all the iPhone 6 and iPhone 6 Plus smartphones sold by now will make you a tower that's 16.5 times higher than Mount Everest, which is 8,848 m. Find out more cool facts in the nicely organized infographic below.