At this year's CES, ZTE outed the second iteration of its Grand S flagship, alongside a worthy Nubia Z5 successor and an entry-level CDMA Iconic Phablet.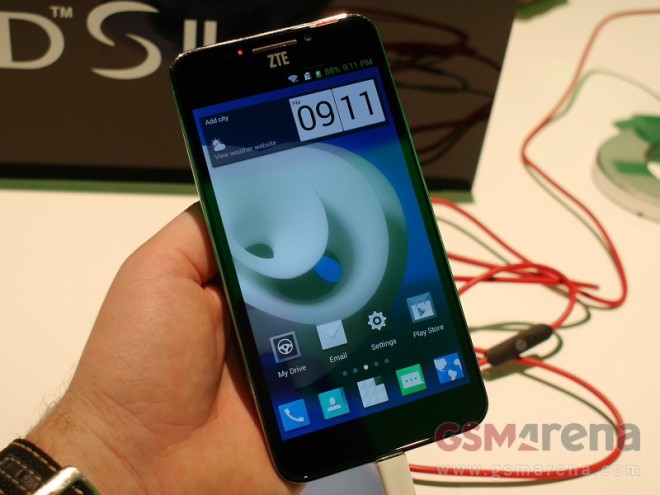 We also got our hands on the ZTEs first wearable tech offering, the eerily Pebbe-like BlueWatch.
ZTE Grand SII LTE hands-on
This years' new flagship from ZTE has been revealed to be the ZTE Grand SII LTE. With it, ZTE joins the Snapdragon 800 club with a four 2.3 GHz Krait 400 cores, 2 GB of RAM, and 16GB of internal memory.

The screen diagonal has grown to 5.5 inches, but this time around ZTE wasn't able to match the razor-thin 6.9mm of thickness that they were able to achieve with the original Grand S, but that's likely due to having to squeeze in a much larger 3,000 mAh battery to power the robust processor and larger screen.
The Grand S II LTE features the same 13MP 1080p-capable shooter on the back complemented by a 2MP front-facer, and like its predecessor (and as its name suggests), features 4G LTE support. It's available in Black, White, and Pink color variants.
ZTE Nubia Z5S hands-on
The new Nubia Z5S from ZTE is a sequel to its original Nubia Z5 offering, and offers a 5-inch 1080p screen, this time of the IGZO variety. ZTE has thrown a boatload of extras into the Z5S, including a 2.3 GHz quad-core Snapdragon 800 CPU, 4K video recording and OIS on the 13MP shooter, the new WiFi ac standard, and even an IR port.

The Nubia Z5S manages to retain its slim 7.6mm waistline, and even manages to trim the height and width by a few hairs.
The IGZO fullHD panel provides great colors and viewing angles, resulting in a pleasant viewing experience on par with most 5-inch 1080p displays out there.
The 13MP primary camera features optical image stabilization as well as the ability to record in 4K UHD resolution. We're eager to see how it stacks up to other 2160p-capable cameras, like the Galaxy Note 3. As an added bonus, the front-facer has been bumped up to 5MP for those of us that like selfies.
Iconic Phablet hands-on
ZTE's new 5.7-inch phablet offering dubbed the Iconic Phablet relies on a 720p resolution that stretches a bit thin at this size, although the pixel density isn't terrible at 258ppi.

The specs are decidedly midrange, however, with 8GB of internal memory, 1GB of RAM, and an 8MP camera with 1MP front-facer.
The phablet operates on CDMA bands 800 / 1900 and LTE, but judging by the meager specs sheet it's likely targeted at developing markets.
BlueWatch hands-on
Not one to get left behind in the wearable tech game, ZTE has unveiled its first smartwatch offering with the ZTE BlueWatch.

It's very similar to the crowdfunded Pebble smartwatch not only in terms of appearance, but in functionality as well. It has the same three buttons on the left and one on the right, huge bezels, and even copies its 1.26-inch 144 x 168 pixel display.