With the Galaxy Note 4 already on the market for over a month it comes as no surprise that manufacturers are working hard to bring interesting accessories for the new phablet. Thanks to its brilliant Super AMOLED screen the Note 4 is a solid all-day phone with a pretty good battery life score.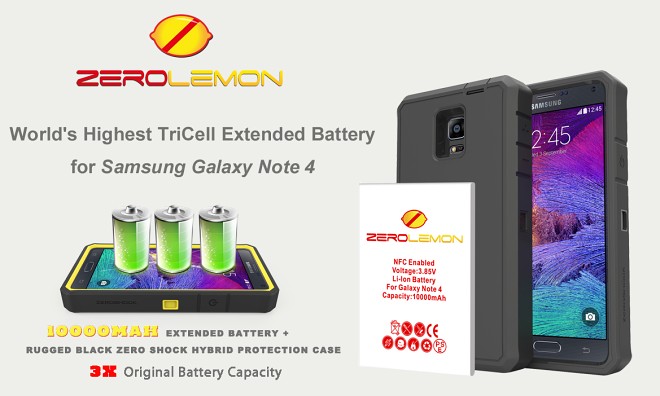 While it does compare admirably to its peers the Galaxy Note 4 is still a modern day smartphone and as such is more or less prone to disappoint you with an empty battery at the most inopportune moment. This is where extended battery pack come in and the folks at Zerolemon have created one heck of a power house.
Their 10,000mAh battery, claims to offer the highest capacity cell for the Galaxy Note 4 in existence. And if that doesn't impress you enough, consider that it has over three times the capacity of the factory battery pack. The cell is surrounded by a rugged case with what the company calls "Double Corner Technology". The fact of the matter is that it really looks like something that does not mind being dropped.
All that added energy does, as expected, make the Note 4 a pretty bulky device, but unlike many other after-market solutions all of the smartphone's sensors remain usable and no compromises need to be made. Even with the formidable extra layer the handset can still take advantage of its built-in NFC for anything from S Beam to Google Wallet.
The Zerolemon extended battery pack is available now through Amazon for $60. So if you happen to own a shiny new Galaxy Note 4 in need of some extra juice on the go this might very well be your best bet.