YouTube is apparently testing a new feature to be added to the Share menu which you can find underneath each video on the site. Alongside sharing via social networks, emailing someone a link to the video, and embedding it on your website, on certain channels a GIF option has magically appeared.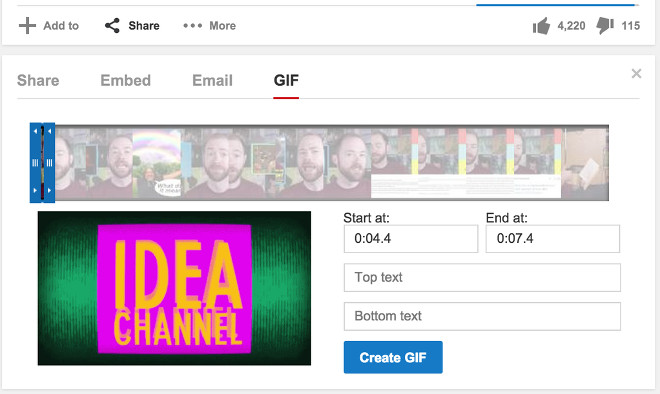 And yes, this is exactly what you think it is – an extremely easy way to create animated GIFs. For now, the feature only seems to have surfaced next to videos uploaded by PBS' Idea Channel. Since Google hasn't officially announced the automated GIF maker, this may be just a test – or an extremely slow rollout.
To create your very own animated GIF from a video (such as this one), just click the Share icon below it, choose GIF, then pick a starting and an ending point, enter some text that will show up on the top and on the bottom of your GIF, and that's it. Once you hit Create GIF, the deed is done.
You can then save the GIF, send people a link to it via email or IM, and even embed it on your website, since YouTube neatly hosts the image for you. If this feature will be made available for all videos on YouTube, we can only imagine the flood of animated GIFs that will quickly follow.