YotaPhone 2 is among those smartphones you just can't miss in the news. It is unique and innovative and we just had to take it for a spin. So, here is the unique YotaPhone 2 arriving at our office. And it has a premium retail box to match.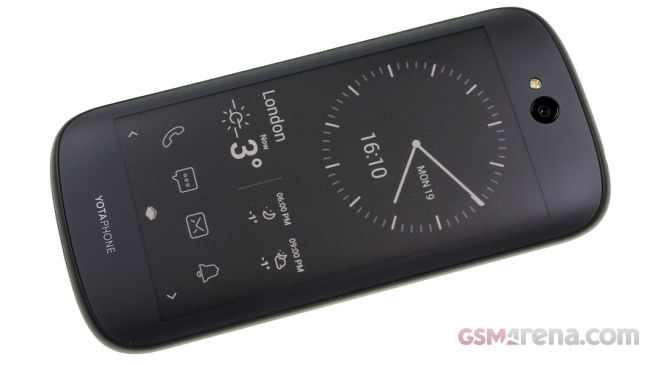 The YotaPhone 2 isn't just a flagship with a 5″ 1080p AMOLED screen and running on a Snapdragon 800 chip. It is more than just a phone, thanks to its rear 4.7″ electronic paper display, which can be used as an e-book reader, as well as a primary display to operate the basic phone functions.
Both displays on the YotaPhone 2 are covered by sheets of Corning Gorilla Glass 3, while its frame is all about matte plastic. It somewhat reminds of an upgraded version of the LG-made Nexus 5 because of all the matte materials used on its body. It runs pure Android KitKat in charge of operations.
The rear display comes very handy, too. It can be used as a fashion accessory (you choose the wallpaper), since it is always on and doesn't require battery power to display an image.
You can read e-books under bright sunlight hassle-free, of course. The e-paper games and widgets are also helpful and will extend the phone's battery life when operated just through the rear screen.
Here comes our traditional hands-on treatment.
You bet we are working hard on our review already, and if this quick teaser has piqued your interest, you may want to keep an eye on our homepage early next week. Stay tuned!