Yelp's great for finding new restaurants in strange cities, but what about foreign places where you don't speak the native tongue?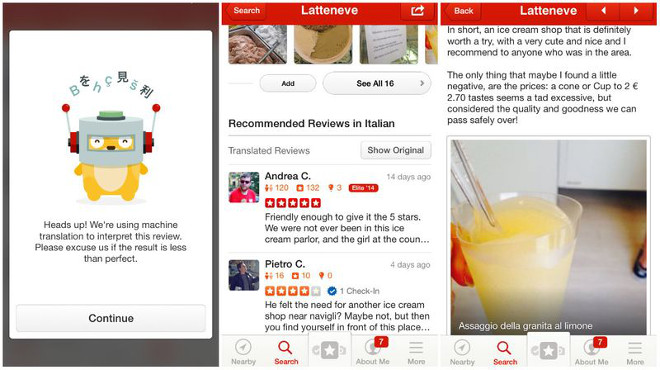 Well have no fear, because the Yelp app for iOS will now automatically translate reviews in a language you'll understand.
The app supports fifteen different languages: English, Czech, Danish, Dutch, Finnish, German, Spanish, Italian, Norwegian, Polish, Portuguese, Turkish, Swedish, and Japanese. So if you're traveling abroad and want to know what the best thing to order on the menu is, or if a joint has a mean wait-staff, you won't have to crack open your foreign dictionary or go through the hassle of copying and pasting text into a translate app.
Which is essentially what Yelp does automatically for you, as the application translates text using an algorithm. It won't help you to fully understand the review as computer-generated translations often yield baffling and hilarious results, but it's still nice to know that the option is available, and simple words such as "good" or "bad" will help to guide your purchasing decisions.